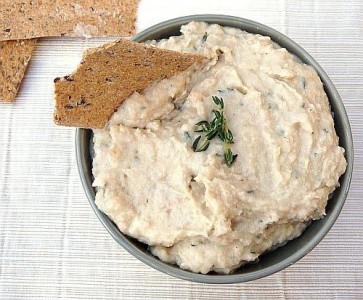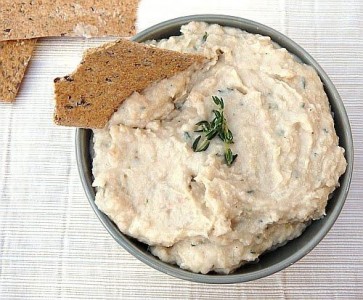 From Cooking Light; November 1996
Ingredients: 
1 whole garlic head
2 tablespoons lemon juice
1 tablespoon olive oil
1 tablespoon tahini (sesame-seed paste)
2 teaspoons minced fresh or 1/2 teaspoon dried rosemary
2 teaspoons hot sauce
4 (15.8-ounce) cans Great Northern beans, drained
Instructions:
Preheat the oven to 375 degrees.
Remove white papery skin from garlic head (do not peel or separate the cloves). Wrap garlic head in foil. Bake at 375 degrees for 45 minutes or until tender; let cool 10 minutes. Separate cloves; squeeze to extract garlic pulp. Discard skins.
Combine garlic pulp and remaining ingredients in a food processor; process until smooth, scraping sides of processor bowl occasionally. Serve with French bread.
Nutrition Information: 
Makes 5 1/4 cups, serving size: 1 tablespoon
Per serving: Calories: 16; Total fat: .3 g (saturated fat: 0 g); Protein: .9 g; Carbohydrates: 2.6 g; Fiber: .6 g; Cholesterol: 0 mg; Sodium: 53 mg