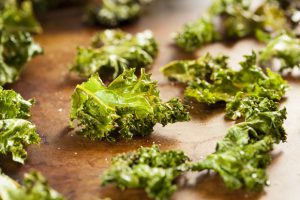 Recipe from: Epicurious
Ingredients
Cooking spray
1 small bunch kale (about 1/2 pound)
1 Tablespoon olive oil
1/4 teaspoon garlic powder
1/4 teaspoon salt
Directions
Preheat oven to 350°F. Spray two baking trays with cooking spray.
Remove center rib and stems from each kale leaf and discard. Tear or cut leaves into bite-size pieces, about 2-3 inches wide. Wash kale and dry it very well.
Place kale in large bowl. Drizzle with oil and sprinkle with garlic powder and salt. Massage oil and seasonings into kale with hands to distribute evenly.
Place kale in single layer on baking sheets. Bake until crisp and edges are slightly browned, 12-15 minutes.
Nutrition Information (Serves 4):
60 calories, 4 g fat, .5 g saturated fat, 2.5 g monounsaturated fat, 2 g protein, 6 g carbohydrate, 2 g fiber, 0 mg cholesterol, 170 mg sodium