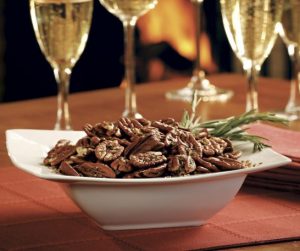 Retrieved from: Eating Well
Pecans make for a great appetizer or for something to snack on throughout the day. This recipe is incredibly simple and takes little time to prepare!
Ingredients
1 tablespoon packed dark brown sugar
1 pound pecan halves
1 1/2 teaspoons kosher salt
1 teaspoon chopped fresh thyme
1 teaspoon chopped fresh rosemary
1/2 teaspoon freshly ground pepper
1/2 teaspoon piment d'Espelette, (see Tip) or a pinch of cayenne pepper
2 tablespoons extra-virgin olive oil
Instructions:
Preheat oven to 350 °F.
Combine brown sugar, salt, thyme, rosemary, pepper and piment d'Espelette (or cayenne) in a small bowl. Transfer the roasted pecans to a large bowl, drizzle with oil and toss well to coat completely. Sprinkle with the spice mixture and toss again. Serve warm or let cool completely and store in an airtight container.
Make Ahead Tip: Store in an airtight container for up to 2 weeks.
Tip: Piment d'Espelette is a sweet, mildly spicy chile pepper from the Basque region of France, ground into a powder. Find it online at spanishtable.com.
Nutritional Information
Serving size: 2 tablespoons; 107 calories; 11 g fat(1 g sat); 1 g fiber; 2 g carbohydrates; 1 g protein; 3 mcg folate; 0 mg cholesterol; 1 g sugars; 0 g added sugars; 11 IU vitamin A; 0 mg vitamin C; 10 mg calcium; 0 mg iron; 53 mg sodium; 59 mg potassium