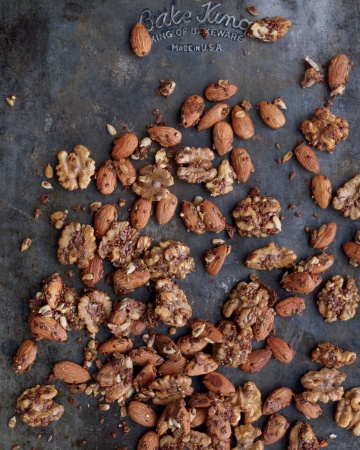 From: WholeLiving.com
Ingredients
3 cups whole nuts
¼ cup flaxseeds
¼ cup quinoa
¼ cup sunflower seeds
2 egg whites
2 Tablespoons honey
1 ½ teaspoon coarse salt
¼ teaspoon cayenne
¼ teaspoon cumin
¼ teaspoon cinnamon
Instructions
Mix nuts with flaxseeds, quinoa, and sunflower seeds. In separate bowl, whisk egg whites, honey, salt, cumin, cayenne, and cinnamon.  Toss with nuts.
Spread in a single layer on a baking sheet; bake at 325 degrees until dry, stirring occasionally, about 30 minutes. Scrape from pan while cooling, to avoid sticking.
Nutrition Information
Makes 16 servings
Calories: 180; Total Fat: 17g (Saturated Fat: 2 g); Cholesterol: 0mg; Sodium: 17mg;
Total Carbohydrate: 8g; Dietary Fiber: 3g; Protein: 5g
Notes:
Great for gift giving. Store in an air-tight container. Can use any combination of nuts.