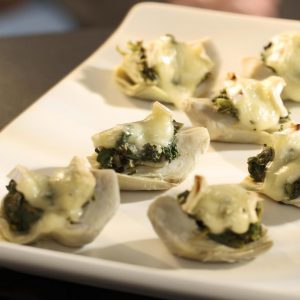 Retrieved from: Eating Well
The flavor and texture of brie pairs perfectly with the spinach and artichokes. This appetizer will make veggie-phobes coming back for more!
Ingredients:
2/3 cup cooked chopped spinach1 teaspoon lemon pepper
1 9-ounce box frozen artichoke hearts
1/4 teaspoon salt
18 thin slices brie
Instructions:
Preheat broiler. Prepare artichoke hearts according to package directions.
Combine spinach, lemon pepper and salt in a small bowl. Top each artichoke heart with the spinach mixture and brie. Broil until cheese melts, 1 to 2 minutes.
Nutritional Information
22 calories; 1 g fat(1 g sat); 1 g fiber; 2 g carbohydrates; 1 g protein; 34 mcg folate; 4 mg cholesterol; 0 g sugars; 0 g added sugars; 781 IU vitamin A; 1 mg vitamin C; 25 mg calcium; 0 mg iron; 91 mg sodium; 79 mg potassium