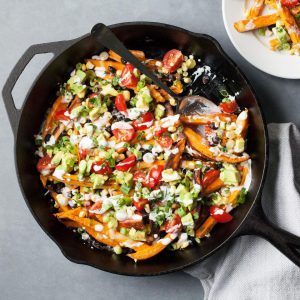 Retrieved From: Eating Well
These tangy sweet nachos are sure to be a household favorite! This recipe uses sweet potatoes as the base vegetable instead of gold potatoes which adds extra nutritional value to this dish. The nachos can be prepared quickly; just in time for the football game kick-off!
Ingredients:
2 tablespoons extra-virgin olive oil
2 medium sweet potatoes (about 1 1/2 pounds), cut into sticks about 1/4 inch thick
1/4 teaspoon salt plus a pinch, divided
2 tablespoons reduced-fat sour cream
1 tablespoon lime juice
1 cup corn kernels, fresh or frozen
1/2 cup shredded Cheddar cheese
1/3 cup black beans, rinsed
1/2 cup cherry tomatoes, halved or quartered if large
2 scallions, sliced
1 avocado, chopped
2 tablespoons chopped cilantro (optional)
Instructions:
Preheat oven to 425 °F.
Heat oil in a large cast-iron skillet over medium-high heat. Add sweet potatoes and 1/4 teaspoon salt. Cook, stirring occasionally, until beginning to brown, 5 to 7 minutes. Transfer the pan to the oven and bake until the sweet potatoes are soft, 15 to 20 minutes.
Meanwhile, combine sour cream, lime juice and the remaining pinch of salt in a small bowl.
Top the sweet potatoes with corn, cheese and beans. Continue baking until the cheese is melted, about 5 minutes. Top with tomatoes, scallions and avocado. Drizzle with the sour cream mixture. Serve topped with cilantro (if using).
Nutritional Information
Serving size: About a ½ cup; 174 calories; 8 g fat(2 g sat); 5 g fiber; 22 g carbohydrates; 4 g protein; 40 mcg folate; 7 mg cholesterol; 5 g sugars; 0 g added sugars; 11478 IU vitamin A; 7 mg vitamin C; 74 mg calcium; 1 mg iron; 166 mg sodium; 460 mg potassium