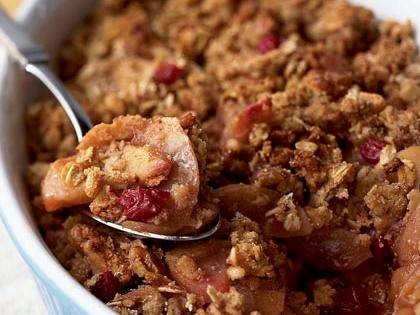 Source: Healthy in a Hurry by Karen Ansel
Serves 10
Ingredients
1 cup rolled oats
6 tablespoons all-purpose flour
6 tablespoons whole wheat flour
¼ cup light brown sugar
¾ teaspoon ground cinnamon
¼ teaspoon salt
½ cup unsalted butter
1/3 cup walnuts
1/3 cup granulated sugar
1 tablespoon cornstarch
3 lbs apples – peeled, cored, and sliced
1 cup fresh or frozen cranberries
Instructions
Preheat oven to 375 F (190 C).
Combine oats, flour, brown sugar, cinnamon, and salt – stir to mix well – scatter in butter pieces.
Using an electric mixer on low speed, mix or run in butter until uniform coarse crumbs form.
Stir in chopped walnuts.
In a large bowl, whisk together granulated sugar and cornstarch until well blended.
Add apples and cranberries and toss to coat and mix well.
Pour fruit into a 9X13 baking dish – sprinkle evenly with oat mixture.
Bake until topping is golden brown, and ad apples are tender (50-60 minutes).
Notes
Can use any fruit. For example, blueberries or peaches.
Nutrition Information
Calories: 350; Total Fat: 13g (Saturated Fat: 6g); Sodium: 65mg; Cholesterol: 25mg;
Total Carbohydrate: 56g; Dietary Fiber: 4g; Protein: 5g.