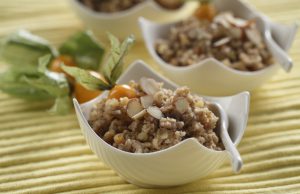 Recipe adapted from: Canadian Lentils
This protein-packed breakfast will keep you full for hours. One batch makes enough to feed your entire family. These oats also reheat well, allowing you to make one batch on Sunday and enjoy it for breakfast all week long. Be sure to plan ahead, as these oats need to soak overnight before baking in the oven.
Servings: 6
Prep Time: 10 minutes
Total Time: 55 minutes
Ingredients :
1 tsp vegetable oil
2 large eggs
1 can lite coconut milk
2 Tbsp water
1/3 cup maple syrup
1 tsp vanilla
3/4 steel cut oats
1/2 cup split red lentils
1 tsp cinnamon
1/2 tsp ground ginger
1/4 tsp sea salt
Instructions:
Grease a 3 quart casserole dish or a 9-inch square baking dish with coconut oil.
In a medium bowl, beat eggs, coconut milk, water, maple syrup, vanilla, oats, lentils, cinnamon, ginger, and salt. Pour into prepared dish. Cover with plastic wrap and refrigerate overnight.
Preheat oven to 350 ° the following morning. Remove plastic wrap. Stir oats and lentils. Cover with foil and bake for 30 minutes. Remove foil and bake another 10-12 minutes or until set in the middle.
 Serve with fresh fruit, toasted nuts, and seeds.
Nutrition Information: (Serves 6)
Calories 251, Total Fat 8g, Saturated Fat 5g, Cholesterol 62 mg, Carbohydrates 38 g, Dietary Fiber 6g, Sugar 12g, Protein 8g, Sodium 113 mg, Potassium 196 mg