Frittatas are the perfect make-ahead-meal to have on hand for busy mornings. Simply microwave one portion for 1 minute and voila: breakfast. Frittatas are super easy to make. Simply chop up whatever vegetables you have on hand and arrange them in an oiled pie or frittata pan. Scramble up about 7-10 eggs and pour them over the vegetables. Sprinkle the top with cheese, and bake in the oven. It's like a flavorful omelet for half the effort. One large frittata can make up to 8 portions – feed your whole family or have breakfast for a week. Frittatas freeze well.
Ingredients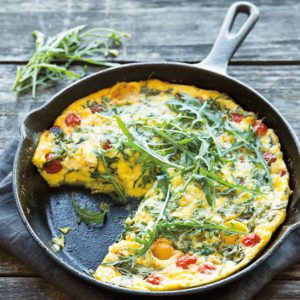 2 Tablespoons olive oil, divided
1 1/2 cups butternut squash cut into small cubes
1 cup chopped broccoli florets
1 shallot, thinly sliced
2 cups arugula
8 large eggs
1/2 teaspoon salt
1/4 teaspoon pepper
1/4 cup + 1 Tablespoon grated Parmesan cheese
Directions
Preheat the oven to 350° F. Grease a frittata pan or pie pan with 1 Tablespoon of oil. Set aside.
Heat the other Tablespoon of olive oil on a warm skillet. Add butternut squash cubes, chopped broccoli, and sliced shallots to the skillet. Saute for 5-10 minutes, until squash becomes soft. (If squash cubes are large, you may need to cover the pan with a lid for a few minutes to steam.)
Place sauteed vegetable mix into the frittata pan. Spread the arugula over top.
In a large bowl, beat eggs together with salt, pepper, and 1/4 cup Parmesan cheese. Do not over mix.
Pour egg mixture over vegetables. Sprinkle remaining 1 Tablespoon Parmesan cheese over the top.
Bake for 16-18 minutes or until set. Cool slightly before eating.
Nutrition Information (8 Servings)
Calories 157, Protein 9 grams, Carbohydrate 12 grams, Dietary Fiber 2 grams, Total fat 9 grams, Saturated fat 2 grams, Cholesterol 188 mg, Sodium 266 mg.
Ingredient Variations – The beauty of frittatas is that you can add absolutely anything to the dish:
Vegetables: Diced/sliced/cherry tomatoes, scallions, sweet potatoes, zucchini, kale, collard greens, spinach, bell peppers, olives, jalapenos, mushrooms
Cheese: Feta, goat, cheddar, blue, pepper jack
Spices: basil, red pepper flakes, nutmeg, garlic