Who doesn't love a Starbucks Pumpkin Spice Latte?  This favorite seasonal drink containing espresso, pumpkin-flavored syrup and steamed milk and topped with sweetened whipped cream and pumpkin pie spices, has become so popular that it even has its own acronym – PSL.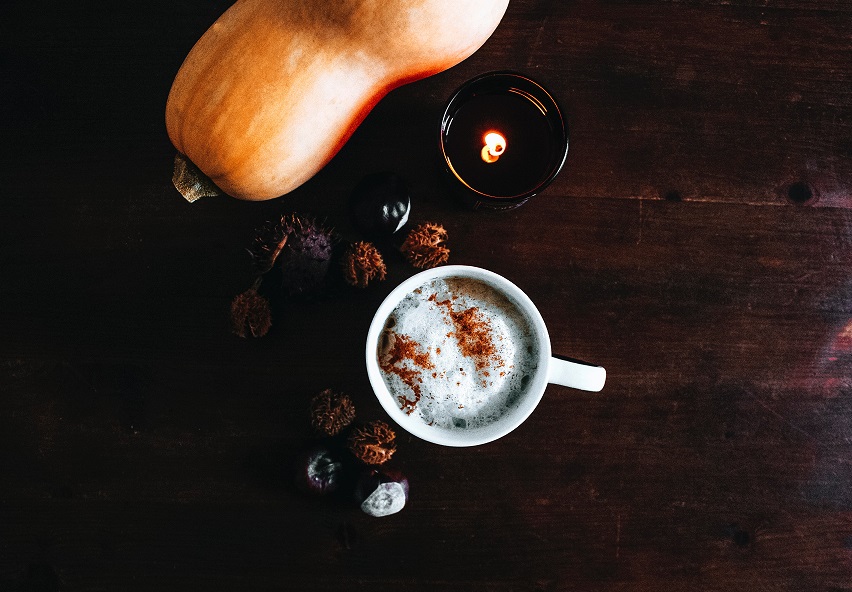 Yum!  Yum!  And more YUM!   But wait…a recent experience with this lovely libation caused me to press the pause button…and CREATE.
With the recent fall of autumn, I decided to get into the seasonal spirit by treating myself to a PSL from Starbucks.  While perusing the added nutrition information to their menu board – Way to go Starbucks!  – I learned just how much of a "TREAT" this really was.  At the smallest size, the 12-oz Tall contains 300 calories and costs about $4.  The medium 16-oz Grande has 380 calories and the largest 20-oz Venti tops the caloric densimeter (ok, I made up this word) at 470 calories and close to $5!!!!
While I was indulging in this bountiful beverage, I realized two things:  1) it was really TOO sweet for me and 2) there is no way that my wallet or my waistline can keep pace with these Starbucks visits.  And then I thought, "I could have the same enjoyment from making my own PSL."  So I did and I wanted to share my VERY simple recipe with you:
Ingredients
8-oz brewed pumpkin-flavored Green Mountain coffee
¼ cup 1% Milk
1 package splenda (or sweetener of your choice)
Pumpkin Pie Spice
Brew pot of pumpkin-flavored coffee.
While brewing coffee, combine ¼ cup 1% milk and 1 package splenda in microwave-safe mug and microwave for 30 seconds.
Add brewed coffee to mug with milk to desired about and top with pumpkin pie spice.
CALORIES = 26
CALORIE SAVINGS = 270-440
Your waistline and your wallet will thank YOU!!!!
Happy Fall to Y'all!