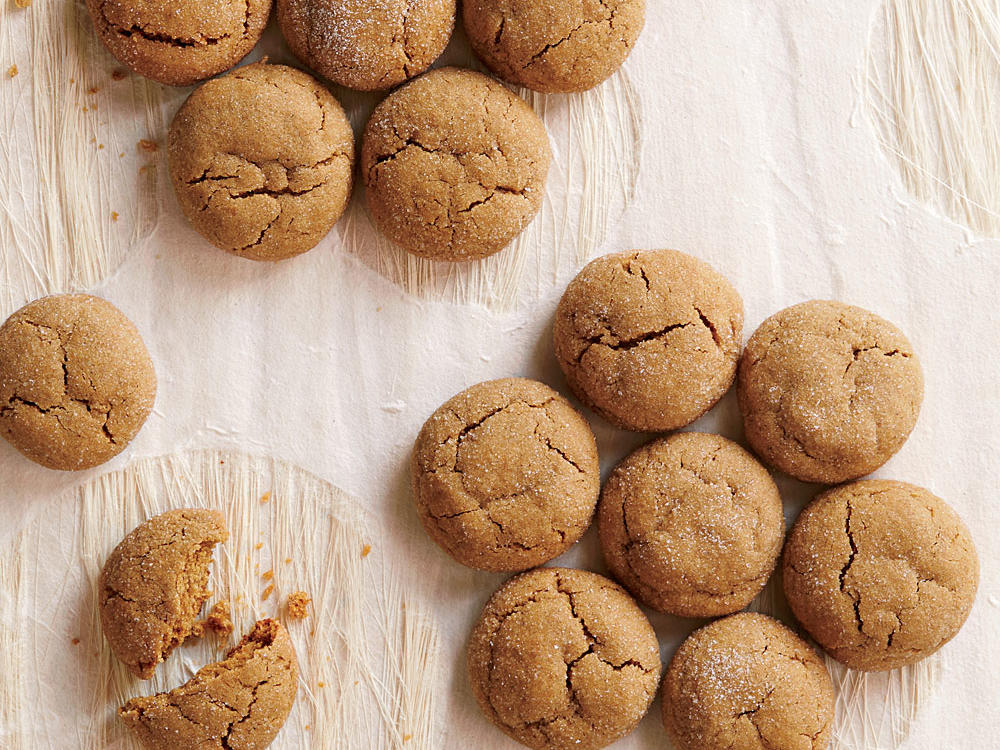 Source: CookingLight.com
Serves 24 (serving size 1 cookie)
Ingredients
8 ounces all-purpose flour (about 1 3/4 cups)
1 teaspoon ground cinnamon
1/2 teaspoon baking soda
1/2 teaspoon ground ginger
1/2 teaspoon ground cloves
1/4 teaspoon baking powder
1/4 teaspoon salt
6 tablespoons butter, softened
8 tablespoons granulated sugar, divided
1/4 cup dark brown sugar
1 large egg
1/4 cup molasses
Instructions
Weigh or lightly spoon flour into dry measuring cups; level with a knife. Combine flour and next 6 ingredients (through salt) in a bowl, stirring with a whisk.
Place butter, 5 tablespoons granulated sugar, and brown sugar in a large bowl; beat with a mixer at medium speed 5 minutes or until fluffy. Add egg; beat 30 seconds. Add molasses; beat just until combined. Add flour mixture to butter mixture; beat at low speed or just until combined. Cover and chill 30 minutes.
Preheat oven to 350°.
Shape dough into 24 balls, about 1 1/2 tablespoons each. Roll balls in remaining 3 tablespoons sugar; place 2 inches apart on baking sheets covered with parchment paper. Bake at 350° for 12 minutes or just until set. Cool 3 minutes on pan; remove to a wire rack.
Notes
Hands-on Time: 15 Minutes
Total Time: 1 Hour
Nutrition Information
Calories 96
Fat 3.2g
Satfat 1.9g
Monofat 0.8g
Polyfat 0.2g
Protein 1g
Carbohydrate 16g
Fiber 0.0g
Cholesterol 15mg
Iron 1mg
Sodium 85mg
Calcium 15mg