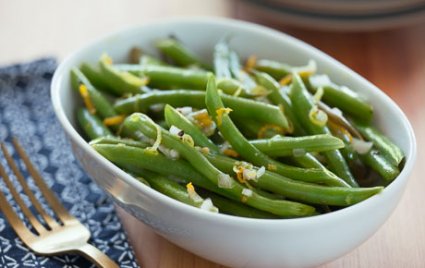 Adapted From: Wholefoodmarket.com
Serves 8-10
Ingredients
2 pounds green beans, trimmed
Zest and juice of 1 large lemon
3/4 teaspoon fine sea salt
1/2 teaspoon ground black pepper
Zest and juice of 1/2 orange
3 tablespoons extra-virgin olive oil
1 shallot, finely chopped
Instructions
In a large bowl, whisk together lemon zest and juice, orange zest and juice, olive oil, shallot, salt and pepper. Set aside.
Bring a large pot of salted water to a boil over high heat. Add green beans and cook until bright green and barely tender, about 2 minutes. Remove with a slotted spoon (shake off any excess water) and transfer to the bowl with the dressing. Toss to combine. Alternately, to serve beans at room temperature, transfer the beans to cold water and drain well. Toss with dressing just before serving.
Nutrition Information
Per Serving: 80 calories (45 from fat), 5g total fat, 0.5g saturated fat, 200mg sodium, 9g carbohydrates, (3 g dietary fiber, 4g sugar), 2g protein.