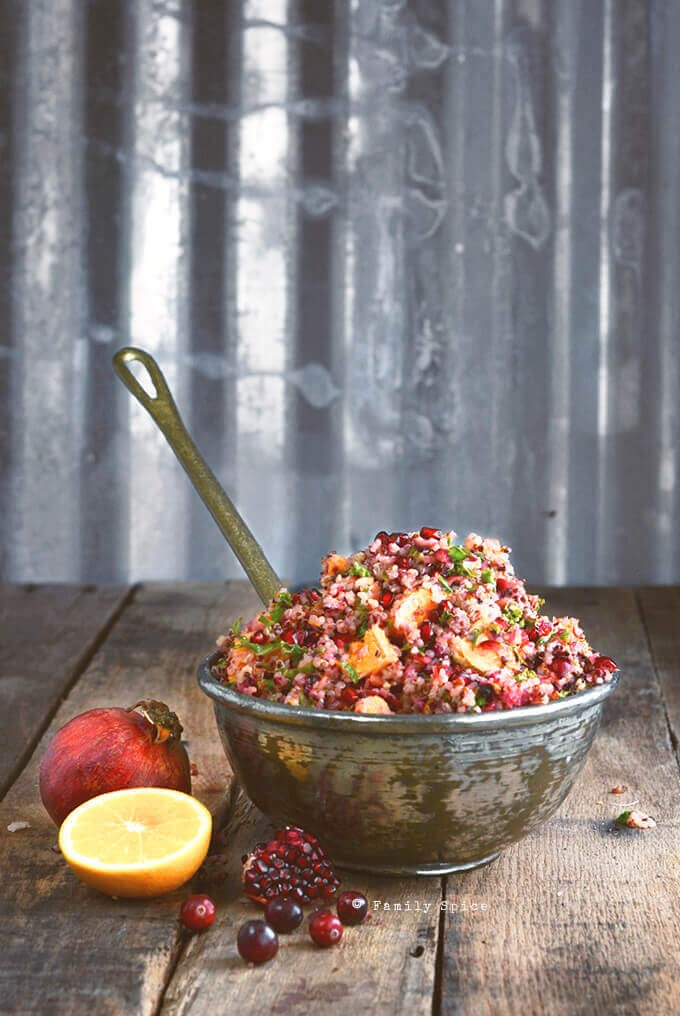 Serves 8
Ingredients
1 cup quinoa
2 cups water
2 large leaves of kale
2 cups of fresh cranberries
2 tablespoons extra virgin olive oil
1 teaspoon honey
2 tablespoons orange zest grated
6 small oranges
¼ cup mixed nuts
¼ cup pomegranate seeds
¼ cup mint, fresh and chopped
Instructions

Rinse quinoa with water.
Boil 2 cups of water.
Transfer the rinsed quinoa to the boiled water.
Cover and reduce heat to low and continue to cook until water is gone (12-15 minutes).
Wash and remove stems from kale leaves – finely chop them.
In food processor or blender, blend cranberries, olive oil, and honey.
Transfer cooked quinoa to mixing bowl to mix with kale.
Once at room temperature, stir in orange zest.
Peel and chop 6 small oranges
Mix in cranberry mixture from the blender.
Stir in mixed nuts, pomegranate seeds, and fresh mint.
Refrigerate until ready to serve.
Nutrition Information
Calories: 310; Total Fat: 11.6g; Total Carbohydrate: 44.5g; Protein: 8.8g.