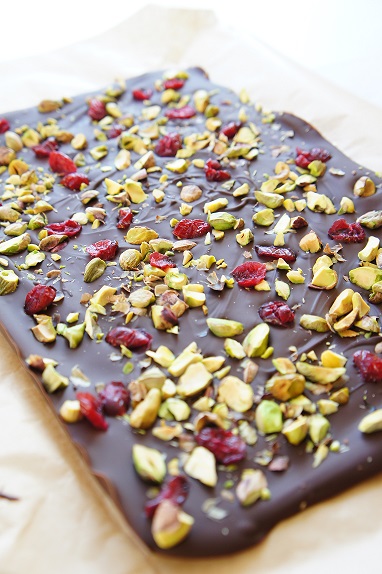 From EatingWell 2003
Ingredients:
3/4 cup roasted, shelled pistachios (3 ounces), coarsely chopped
3/4 cup dried cherries, or dried cranberries
1 teaspoon freshly grated orange zest
24 ounces bittersweet chocolate, finely chopped, divided.
Instructions:
Line the bottom and sides of a jelly-roll pan or baking sheet with foil (take care to avoid wrinkles). Toss pistachios with cherries (or cranberries) in a medium bowl. Divide the mixture in half; stir orange zest into 1 portion.
Melt 18 ounces chocolate in a double broiler over hot water (alternatively, microwave on low in 30-second bursts). Stir often with a rubber spatula so it melts evenly.
Remove the top man and wipe dry (or remove from the microwave). Stir in the remaining 6 ounces chocolate, in 2 additions, until thoroughly melted and smooth.
Add the pistachio mixture containing the orange zest to the chocolate; stir to mix well. Working quickly, scrape the chocolate onto the prepared pan, spreading it to an even 1/4-inch thickness with a rubber spatula. Sprinkle remaining pistachio mixture on top; gentle press it into the chocolate with your fingertips. Refrigerate, uncovered, just until set, about 20 minutes.
Invert the pan onto a large cutting board. Remove the pan and peel off the foil. Using the tip of a sharp knife, score the chocolate lengthwise with 6 parallel lines. Break bark along the score lines. Break the strips of bark into 2- to 3-inch chunks.
Nutrition:
Makes about 4 dozen pieces
Per piece: Calories: 79; Total Fat: 5 g (Saturated Fat: 2 g); Cholesterol: 0  mg; Carbohydrates: 1 g; Protein: 2 g; Dietary Fiber: 2 g; Sodium: 0 mg; Potassium: 26 mg.
Notes:
Make ahead tip: store in an airtight container in the refrigerator for up to 2 weeks.