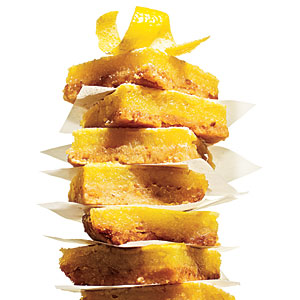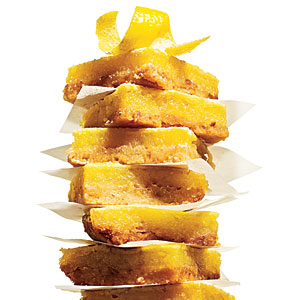 Ingredients
4 ounces all-purpose flour (about 3/4 cup)
1/4 cup powdered sugar
3 tablespoons pine nuts, toasted and coarsely chopped
1/8 teaspoon salt
2 tablespoons chilled unsalted butter, cut into small pieces
2 tablespoons canola oil
Cooking spray
3/4 cup granulated sugar
2 tablespoons all-purpose flour
1 teaspoon grated lemon rind
1/2 cup fresh lemon juice
2 large eggs
1 large egg white
2 tablespoons powdered sugar
Preparation
Preheat oven to 350°.
Weigh or lightly spoon flour into dry measuring cups; level with a knife. Place flour, 1/4 cup powdered sugar, pine nuts, and salt in a food processor; pulse 2 times to combine. Add butter and canola oil. Pulse 3 to 5 times or until mixture resembles coarse meal. Place mixture into the bottom of an 8-inch square glass or ceramic baking dish coated with cooking spray; press into bottom of pan. Bake at 350° for 20 minutes or until lightly browned. Reduce oven temperature to 325°.
Combine granulated sugar and next 5 ingredients (through egg white) in a medium bowl, stirring with a whisk until smooth. Pour mixture over crust. Bake at 325° for 20 minutes or until set. Remove from oven, and cool completely in pan on a wire rack. Cover and chill for at least 2 hours. Sprinkle squares evenly with 2 tablespoons powdered sugar.
Nutrition information
Serves 16, serving size: 1 square
Calories 124, Fat 5 g (Sat fat 1.3 g), Protein 2 g, Carbohydrate 18.5 g, Fiber 0.3 g, Cholesterol 30 mg.