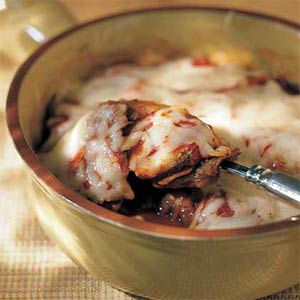 From Cooking Light: November 2000
Ingredients
1 peeled eggplant, cut into 1/4-inch-thick slices (about 1 ¼ pounds)
Cooking spray
1 cup chopped onion
½ teaspoon dried Italian seasoning
¼ teaspoon salt
2 garlic cloves, chopped
1 (8-oz) package presliced mushrooms
¼ teaspoon black pepper, divided
1 (8-oz) can no-salt-added tomato sauce, divided
2/3 cup (about 3-oz) shredded part-skim mozzarella cheese, divided
¼ cup (1-oz) grated fresh Parmesan cheese
Instructions
Preheat broiler
Arrange the eggplant slices on a baking sheet coated with cooking spray; broil 3 minutes on each side or until lightly browned.
Preheat oven to 375 degrees.
Heat a large nonstick skillet coated with cooking spray over medium heat; add onion and next 4 ingredients (onion through mushrooms). Cover and cook 7 minutes or until tender, stirring mixture occasionally. Increase heat to medium-high; uncover and cook for 2 minutes or until liquid evaporates.
Spread half of mushroom mixture in bottom of a 1 1/2-quart round baking dish coated with cooking spray. Arrange half of eggplant slices over mushroom mixture; sprinkle with 1/8 teaspoon pepper. Top with 1/2 cup tomato sauce and 1/3 cup mozzarella. Spread remaining mushroom mixture over mozzarella; top with remaining eggplant slices. Sprinkle with 1/8 teaspoon pepper; top with remaining tomato sauce. Cover and bake at 375° for 1 hour. Sprinkle with 1/3 cup mozzarella and Parmesan. Bake, uncovered, 5 minutes or until cheese melts. Let stand 10 minutes.
Nutrition Information
Makes 4 servings
Calories: 168; Total Fat: 5.6g (Saturated Fat: 3.2g); Cholesterol: 16mg; Sodium: 369mg; Total Carbohydrate: 21g; Dietary Fiber: 6.1g;