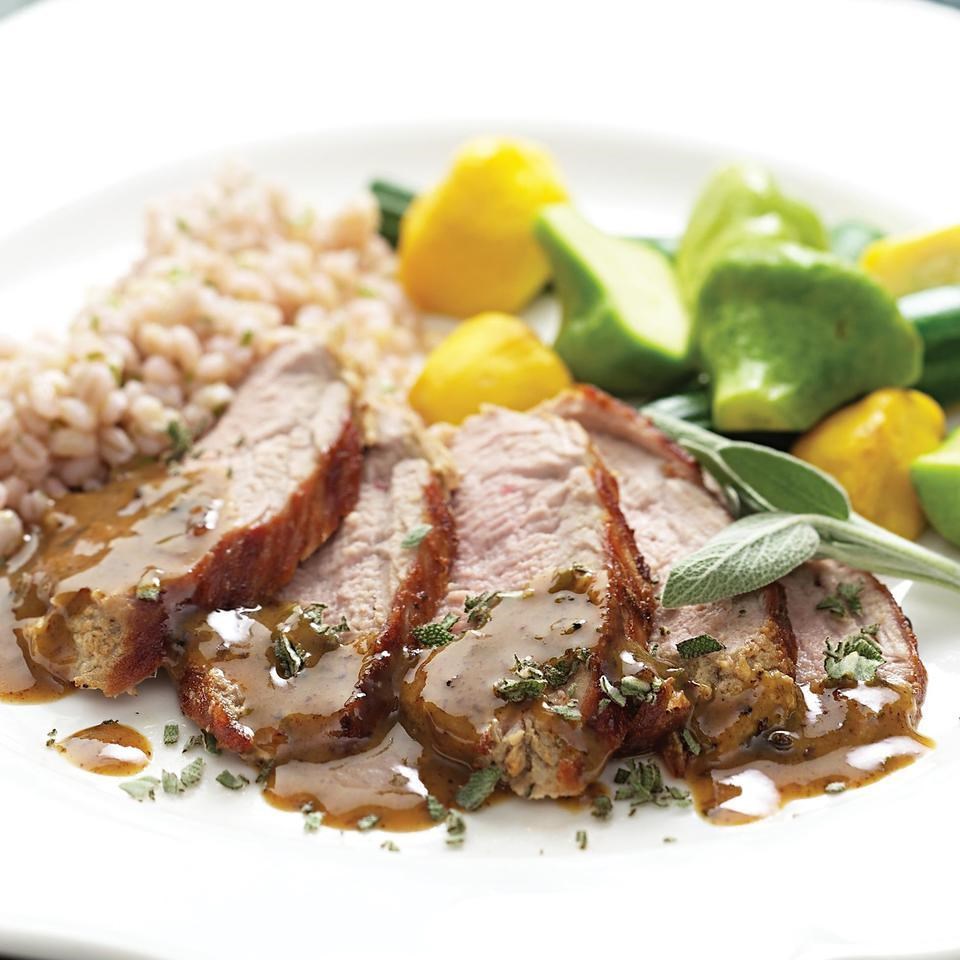 Source: Eatingwell.com
 Serves 4
Ingredients
3 tablespoons Dijon mustard, divided
½ teaspoon kosher salt
½ teaspoon freshly ground pepper
1 pound pork tenderloin, trimmed
2 teaspoons canola oil
¼ cup cider vinegar
2 tablespoons maple syrup
1½ teaspoons chopped fresh sage
Instructions
Preheat oven to 425°F.
Combine 1 tablespoon mustard, salt and pepper in a small bowl; rub all over pork. Heat oil in a large ovenproof skillet over medium-high heat. Add pork and brown on all sides, 3 to 5 minutes. Transfer the pan to the oven and roast until an instant-read thermometer inserted in the center registers 145°F, about 15 minutes. Transfer to a cutting board and let rest for 5 minutes.
Place the skillet over medium-high heat (take care, the handle will still be hot), add vinegar, and boil, scraping up any browned bits with a wooden spoon, about 30 seconds. Whisk in maple syrup and the remaining 2 tablespoons mustard; bring to a boil, reduce heat to a simmer and cook until the sauce is thickened, about 5 minutes.
Slice the pork. Add any accumulated juices to the sauce along with sage. Serve the pork topped with the sauce.
Notes
 Active Time: 30 minutes
Total Time: 45 minutes
Nutrition
Serving size: 3 oz. pork tenderloin & about 2 Tbsp. sauce
Per serving: 186 calories; 5 g fat(1 g sat); 0 g fiber; 9 g carbohydrates; 24 g protein; 0 mcg folate;74 mg cholesterol; 6 g sugars; 6 g added sugars; 7 IU vitamin A; 0 mg vitamin C; 20 mg calcium; 1 mg iron; 472 mg sodium; 512 mg potassium