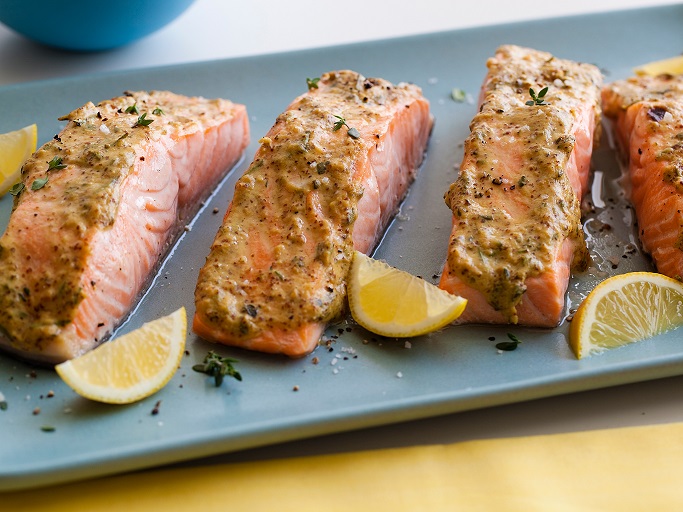 From Foot Network and Giada De Laurentiis 
Active Time: 12 minutes; Total Time: 19 minutes
Ingredients
2 garlic cloves
3/4 teaspoon finely chopped fresh rosemary leaves
3/4 teaspoon finely chopped fresh thyme leaves
1 tablespoon dry white wine
1 tablespoon extra-virgin olive oil
2 tablespoons Dijon mustard
2 tablespoons whole-grain mustard
Nonstick olive oil cooking spray
6 (6 to 8-ounce) salmon fillets
Salt and freshly ground black pepper
6 lemon wedges
Instructions
In a mini food processor, combine garlic, rosemary, thyme, whine, oil, Dijon mustard, and 1 tablespoon of whole-grain mustard. Grind the mustard sauce until combined, about 30 seconds. Transfer to a small bowl. Add remaining 1 tablespoon of whole-grain mustard to the sauce and stir to combine. Set aside mustard sauce.
Preheat the broiler. Line a heavy rimmed baked sheet with foil. Spray the foil with nonstick spray. Arrange the salmon fillets on the baking sheet and sprinkle them with salt and pepper. Broil for 2 minutes. Spoon the mustard sauce over the fillets. Continue broiling until the fillets are just cooked through and golden brown, about 5 minutes longer.
Transfer the fillets to plates and serve with lemon wedges.
Nutrition Information
Makes 6 servings
Calories: 294; Total Fat: 11 g (Saturated Fat: 2 g); Cholesterol: 115 mg; Sodium: 463 mg; Total Carbohydrates: 3 g; Dietary Fiber: 0 g; Protein: 45 g.
Notes:
Recommended Wine: 2001 Pecchenino, Origin: Alba, Piedmont, Grape: Dolcetto.
Wine notes: using white wine for fish and red wine for meat no longer applies. Break with tradition. Italy produces many interesting reds, so for this dish I chose a classic Italian wine made from the dolcetto grape. This lighter bodied red will marry well with my salmon dish which has a rich and silky texture.