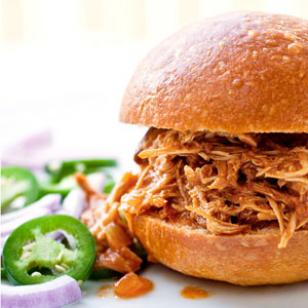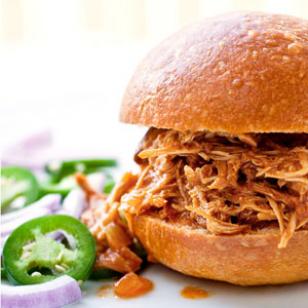 Ingredients
1 8-ounce can reduced-sodium tomato sauce
1 4-ounce can chopped green chiles, drained
3 tablespoons cider vinegar
2 tablespoons honey
1 tablespoon paprika (regular, sweet or smoked)
1 tablespoon tomato paste
1 tablespoon Worcestershire sauce
2 teaspoons dry mustard
1 teaspoon ground chipotle chile (optional)
1/2 teaspoon salt
2 1/2 pounds boneless, skinless chicken thighs, trimmed of fat
1 small onion, finely chopped
1 clove garlic, minced
Instruction
Stir tomato sauce, chiles, vinegar, honey, paprika, tomato paste, Worcestershire sauce, mustard, ground chipotle (optional) and salt in a 6-quart slow cooker until smooth. Add chicken, onion and garlic; stir to combine.
Put the lid on and cook on low until the chicken can be pulled apart, about 5 hours.
Transfer the chicken to a cutting board and shred with a fork. Return the chicken to the sauce, stir well and serve.
Nutrition
Makes 8 servings.
Per serving: 364 calories; 13 g fat (3 g sat); 93 mg cholesterol; 32 g carbohydrates; 4 g added sugars; 30 g protein; 4 g fiber; 477 mg sodium; 547 mg potassium.
Notes
Make Ahead Tip: Cover and refrigerate for up to 3 days or freeze for up to 1 month.
For easy cleanup, try a slow-cooker liner. These heat-resistant, disposable liners fit neatly inside the insert and help prevent food from sticking to the bottom and sides of your slow cooker.