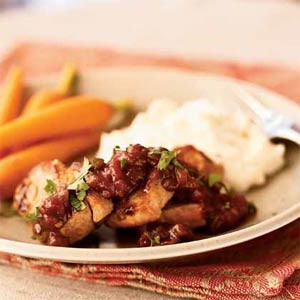 Retrieved from: My Recipes
Sweet, spice, and everything nice! This pork tenderloin is definitely something to write home about and was a Taste Test favorite. This entree is perfect for a family dinner or holiday party!
Ingredients:
1 tablespoon low-sodium soy sauce
1 teaspoon bottled minced fresh ginger
1 teaspoon bottled minced garlic
1 teaspoon canola oil
1 (1-pound) pork tenderloin, trimmed and cut crosswise into 12 (3/4-inch-thick) slices
1/3 cup bottled salsa
1 tablespoon seedless raspberry preserves
2 tablespoons chopped fresh cilantro
Instructions:
Combine first 3 ingredients in a bowl.
Heat oil in a large nonstick skillet over medium-high heat. Flatten each pork piece to 1/2-inch thickness using your fingertips. Add pork to pan; spoon soy sauce mixture evenly over pork slices. Cook 3 minutes or until browned. Turn pork over; cook 3 minutes or until done. Remove from pan.
Add salsa and preserves to pan; increase heat to medium-high. Cook 30 seconds or until slightly. thick, stirring constantly. Serve pork with salsa mixture, and sprinkle with cilantro.
Nutritional Information
Serving size: 3 pork slices, about 1 tablespoon of salsa mixture, and 1 ½ teaspoons cilantro; Calories 169; Calories from fat 28 %; Fat 5.1 g; Saturated fat 1.4 g; Monosaturated fat 2.4 g; Polysaturated fat 0.8 g; Protein 24.4 g; Carbohydrate 5.3 g; Fiber 0.4 g; Cholesterol 74 mg; Iron 1.7 mg; Sodium 285 mg; Calcium 15 mg