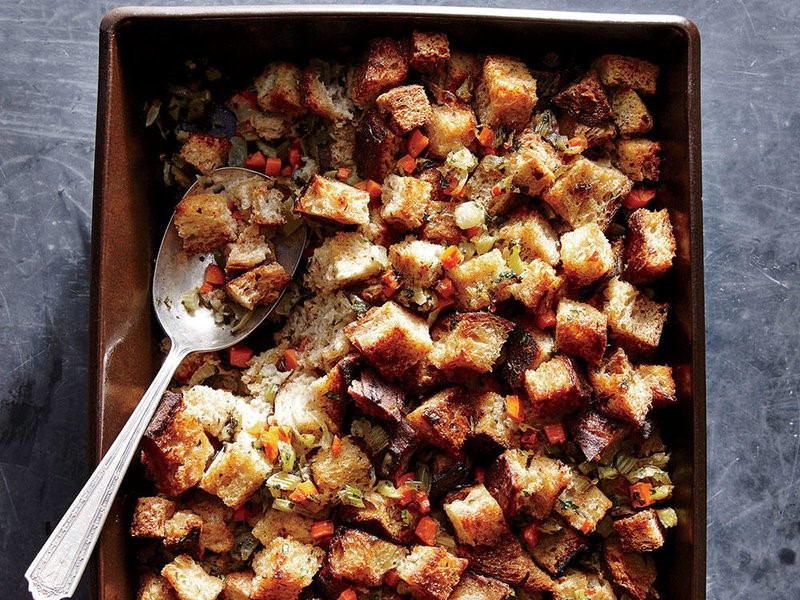 Source: Cooking Light
Serves 10
Ingredients
12 ounces whole-grain bread cut into ¾ inch cubes
2 tablespoons canola oil
2 cups chopped yellow onion
1 cup chopped carrot
1 tablespoon minced garlic
¼ cup chopped fresh flat-leaf parsley
¼ cup chopped fresh sage
¾ teaspoon kosher salt
¾ teaspoon black pepper
2 ½ cups unsalted chicken stock
3 tablespoons unsalted butter – melted
2 large eggs
Cooking spray
Instructions

Preheat oven to 400 F.
Arrange bread cubes in a single layer on a rimmed baking sheet. Bake at 40 F for 20 minutes or until golden, stirring after 10 minutes. Place the bread cubes in a large bowl.
Reduce the oven temperature to 350 F.
Heat a large skillet over medium-high heat. Add oil; swirl to coat. Add onion, celery, carrot, and garlic; sauté 10 minutes or until vegetables are very tender.
Remove pan from heat; stir in parsley, sage, salt, and pepper. Add onion mixture to bread; toss to combine.
Combine stock, butter, and eggs in a bowl, stirring with a whisk. Drizzle stock mixture over bread mixture; toss.
Let stand for 10 minutes or until liquid is absorbed, string occasionally. Spoon bread mixture into a 2-quart glass or ceramic baking dish coated with cooking spray. Bake at 350F for 25 minutes or until browned.
Nutrition Information
Calories: 190; Total Fat: 9g (Saturated Fat: 3g); Sodium: 340mg; Cholesterol: 46mg;
Total Carbohydrate: 20g; Dietary Fiber: 4g; Sugar: 5g; Protein: 8g.