I love growing a vegetable garden. My wife and I have done it for a few summers now. It gets us out in the sun, gives us a feeling of accomplishment, and provides us with super-tasty, fresh produce that we can share with friends, neighbors and coworkers. Every year, around this time, the plants we have been greedily picking over all summer explode with more produce than we can fit into our regular cooking/eating schedule.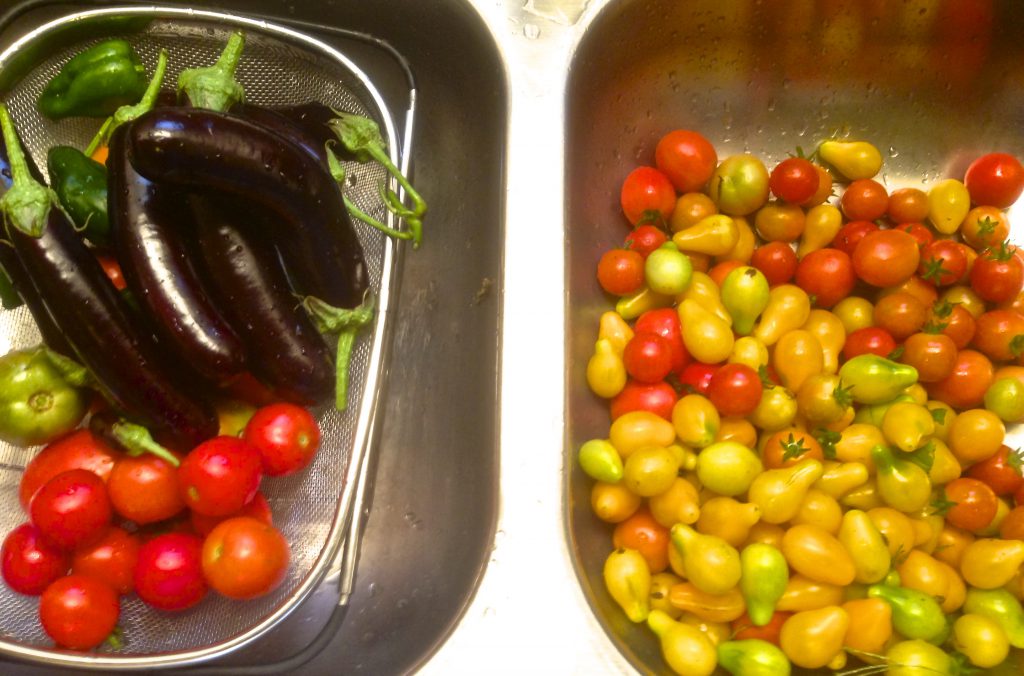 Extra veggies are always easy enough to unload; coworkers gladly take excess tomatoes and peppers shared on the break room table. I'm glad to share them too, but soon summer will be gone and I will wish our garden was still waiting outside to improve every meal. To that end, I try to use our garden overabundance to make foods that can be stored (or shared) in smaller containers. I have some old standbys that always deliver; if we have an overabundance of chives, parsley and oregano I'll make and freeze batches of chimichurri (recipe); if we have too much basil, I'll do the same with pesto (recipe). Tomatoes are easy; we have made and stored large batches of marinara sauce (recipe) and tomato confit (recipe). We have even thrown bloody mary brunches with garden-sourced mix (recipe). Lately however, we have experienced a garden over-abundance of Japanese eggplants and poblano peppers. This past weekend we dealt with that overabundance in in two extremely tasty ways, Japanese eggplant baba ghanoush and smoked poblano-tomato pesto.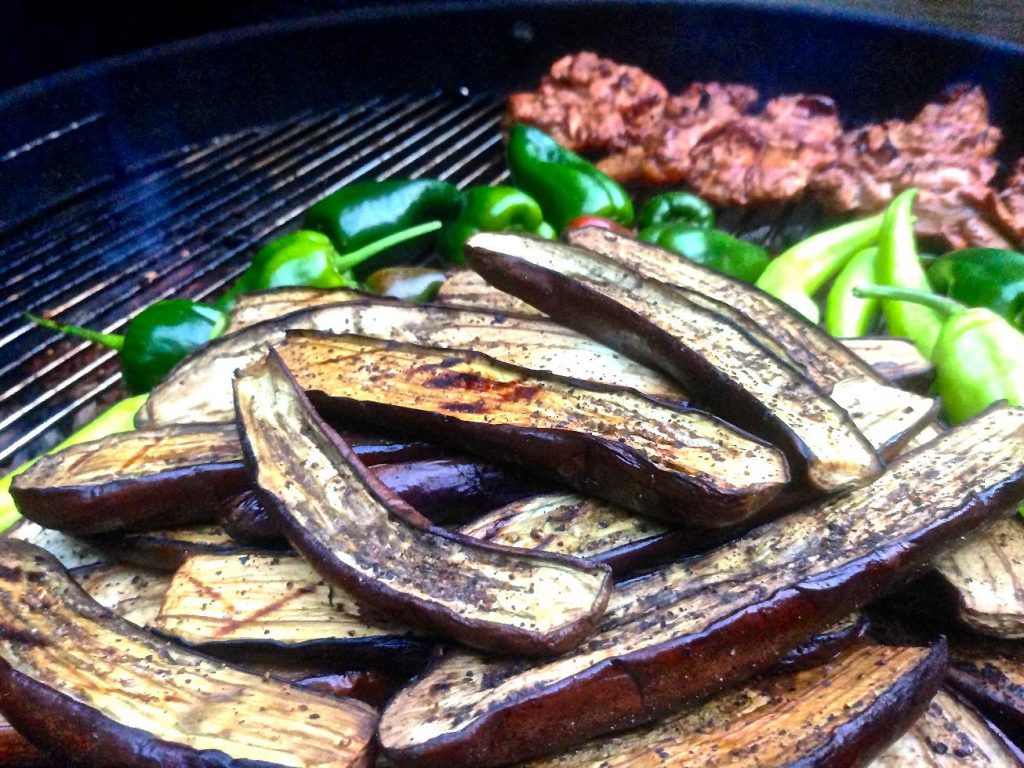 At the Lebanese restaurant I worked while I was in culinary school, we made baba ghanoush with standard eggplant. We roasted them at a medium heat for a long time, cut them in half length-wise once they were cool, then scooped out the flesh and mashed it with minced garlic, chopped parsley, tahini, cumin, olive oil, lemon juice and liquid smoke. I had to adjust the recipe a little for the Japanese eggplant, and at home I don't use liquid smoke; I've got the real thing. I cut the Japanese eggplants length-wise, sprayed the flesh side with olive oil, and sprinkled them with salt and black pepper. I then smoked the eggplant on the grill with mesquite chips at around 300° for about an hour. I let the eggplant halves cool overnight in a roasting pan and then put them in a food processor with garlic, tahini, cumin, olive oil, lemon juice, salt and black pepper. The nice thing about food processor cooking is that you can keep adding bits of your core ingredients until your dish tastes just right. I rough-chopped the parsley separately and folded it in once I removed the nascent baba ghanoush from the food processor because I wanted the parsley to retain a coarser texture than the pulverized eggplant. The baba ghanoush turned out SPLENDIDLY.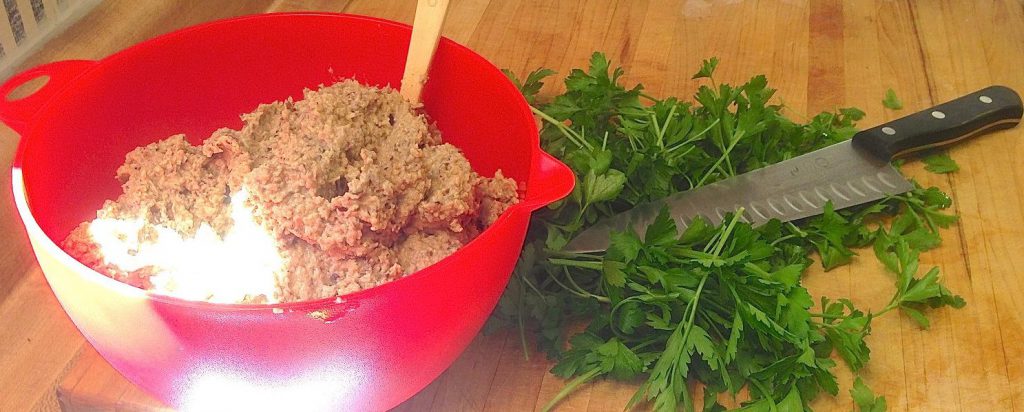 The peppers started out much the same, smoked on the grill with mesquite chips, but I was traveling a little further off the grid for this recipe. We had a ton of leftover pecans from all of the pesto we have been making recently, and we have plenty of tomatoes from the garden as well. I smoked the tomatoes on the grill with the peppers and let them cool in separate bowls overnight.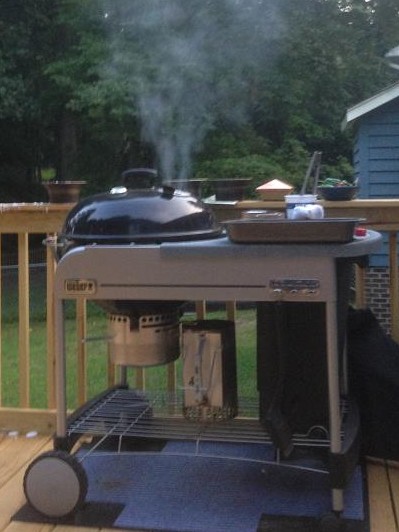 I then toasted about a cup of pecans on a baking sheet at 240° for an hour. I combined the smoked peppers and tomatoes in the blender with the toasted pecans, lemon juice, salt, black pepper, and a little bit of honey, pureed the mixture until it was smooth and then added more salt, black pepper, and lemon juice until it tasted just right. The result was a smokey, peppery, tomato-y paste that has, so far been excellent on pita bread and crackers. I think it would truly excel on sandwiches and pasta, but I have not had the chance to try that yet.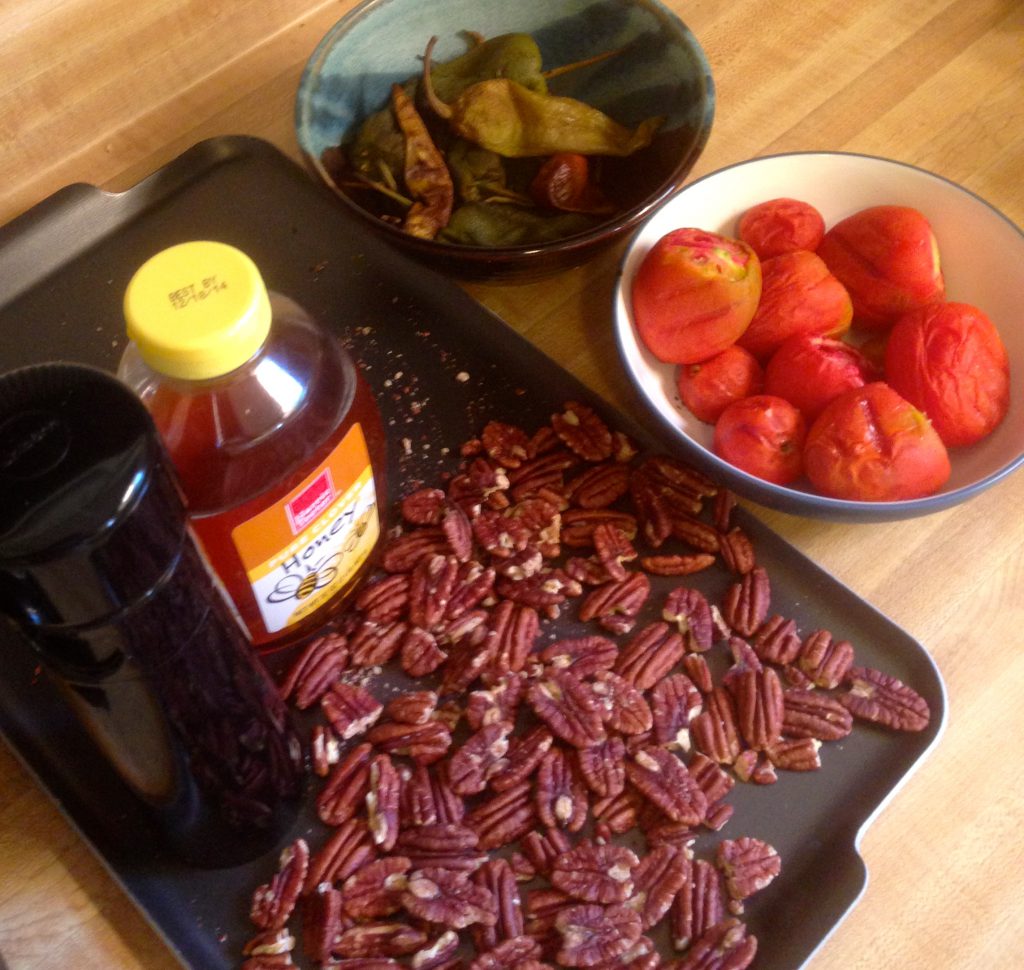 Garden overabundance is never really a problem; there are always folks willing to take extra veggies off your hands. If you want though, you can let your garden overabundance push you towards fun culinary problem solving. And don't worry; your coworkers will still be happy to take any extra from the break room table.