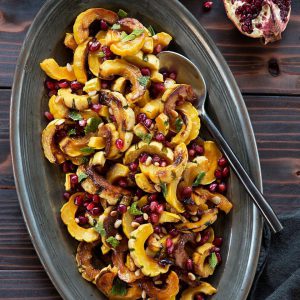 Retrieved From: Eating Well
This recipe was a Holiday Challenge Taste Test favorite! The unique flavors of mint, toasted pine nuts, honey, and cider vinegar complement each other well. Delicata squash is easy to prepare, as the entire squash – skin and all – is edible! If using another winter squash in this dish, be sure to remove the skin. Pine nuts, which can be pricey, can be easily substituted with cashes or walnuts.
Ingredients:
5 pounds delicata or acorn squash
4 shallots, quartered lengthwise
3 tablespoons extra-virgin olive oil
1/2 teaspoon fine sea salt plus a pinch, divided
1/4 teaspoon ground pepper
1/2 cup honey
1/2 cup cider vinegar
1/2 cup pomegranate seeds
1/4 cup pine nuts, toasted or crushed cashews
1/4 cup fresh mint, finely chopped
Instructions:
Position racks in upper and lower thirds of oven; preheat to 400 °F.

Halve squash lengthwise and scoop out the seeds. Cut crosswise into 1-inch-thick slices. Toss the squash slices and shallots with oil, 1/2 teaspoon salt and pepper in a large bowl. Divide between 2 large rimmed baking sheets.

Roast, turning each piece over and rotating the pans top to bottom halfway through, until the squash is tender and caramelized in spots, 30 to 40 minutes. Transfer the squash and shallots to a serving platter.

A few minutes before serving, combine honey, vinegar and a pinch of salt in a small saucepan; bring to a boil over high heat. Reduce heat to a lively simmer and cook, watching closely toward the end, until reduced to about 1/2 cup, 5 to 8 minutes. Immediately drizzle the syrup over the squash. Serve topped with pomegranate seeds, pine nuts and mint.
Nutrition Information: Serving Size-3 to 5 slices, 164 Calories, 6g Fat, 116 mg Sodium