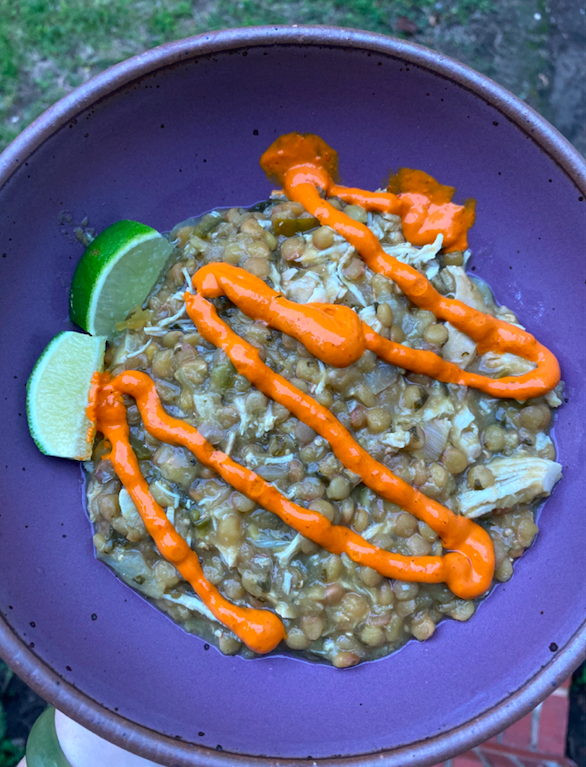 Are you running low on recipe inspiration? Do you need a delicious and easy meal that also lends itself to meal prepping? Look no further…I give you Pinch of Yum's Cilantro Lime Chicken and Lentils that comes together in just 45 minutes. In my opinion, this recipe is a meal prep home run.
I make this recipe so often that I don't always follow the instructions exactly and will omit ingredients (cilantro, onions, green onions, and jalapenos) depending on what I have on hand. It still always turns out good and I have found several ways to "remix" the leftovers.
Top with an over-easy egg
Top with homemade sauces or hot sauces
Serve with brown rice
Burritos
Tacos (especially good as breakfast tacos)
Quesadillas
Nachos
Note: If you are not #teamcilantro (looking at half of the Eat Smart, Move More, Prevent Diabetes team), you can leave it out and this recipe will still be great.
Ingredients:
Recipe from Pinch of Yum
2 cups dried green or brown lentils
1 lb. boneless skinless chicken breasts (or thighs)
3 cups salsa verde
3 cups chicken broth
1/2 small onion, chopped
3 green onions, chopped
1/2 cup cilantro, chopped
3 cloves garlic
2 jalapeños, diced (ribs and seeds removed)
1/2 teaspoon salt, plus more to taste
Instant Pot Instructions:
Add everything to the Instant Pot.
Cook on high pressure for 20 mins. Quick-release the steam.
Remove chicken and shred, then add back to the pot and stir it all up.
Serve with a squeeze of lime!
If you do not have an Instant Pot this meal can be made in a slow cooker. Cook for 8 hours on low. The chicken probably only needs 4 hours so add it halfway to keep your chicken from drying out.
Nutrition:
Serves 8
Calories 294
Total Fat 3g
Sodium 1058mg (*lessen by not adding salt, using low sodium chicken stock, and looking for a lower sodium salsa verde)
Dietary Fiber 17g
Protein 27.6g
Total Carbohydrate 37.5g
Sugars 5g
You may also enjoy:
Why the Instant Pot is My Favorite Kitchen Appliance
Easy Weeknight Dinner: Slow Cooker Chicken Fajitas
Don't miss another great blog: Subscribe Now