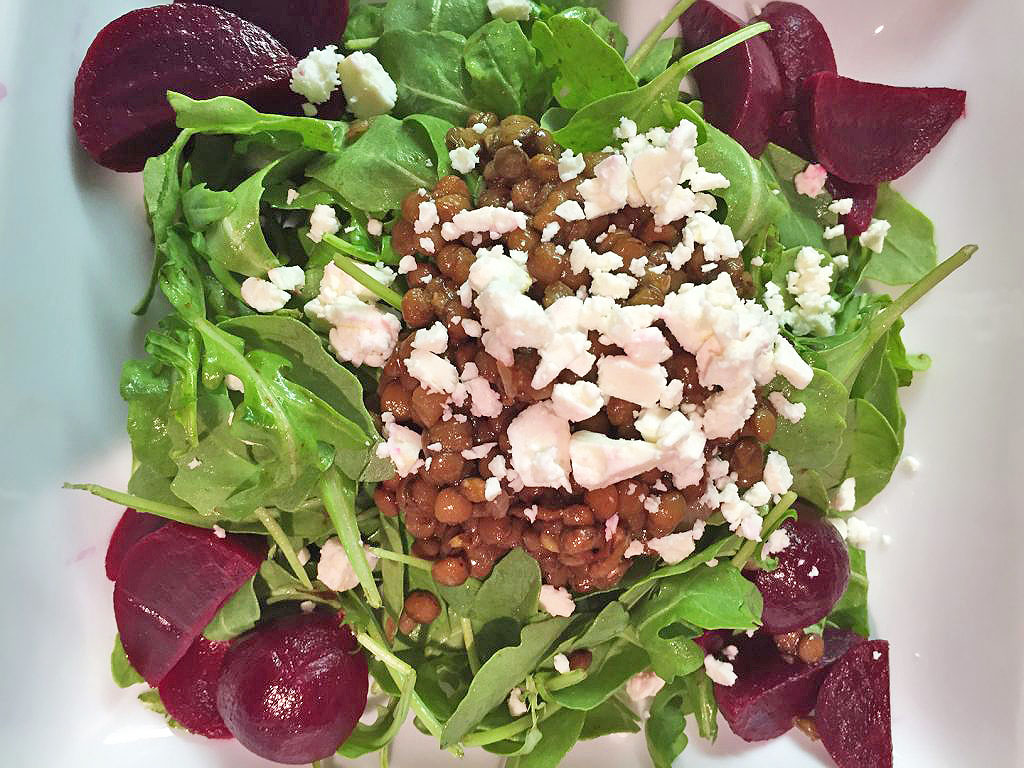 Source: Medinsteadofmeds.com
Serves 4
Ingredients
1 cup red, green, or brown lentils
1 bag baby arugula (can use spinach or spring mix)
1 can whole beets, drained
2 ounces (approximately ⅓ cup) feta cheese, crumbled (can use blue cheese or goat cheese)
Vinaigrette:
¼ cup olive oil
1 shallot, minced
1 teaspoon ground cumin
2 tablespoons balsamic vinegar
1 tablespoon lemon juice
Pinch cayenne
Salt and pepper to taste
Instructions
Make the vinaigrette by heating the oil in a medium skillet and sautéing the shallots.
Add the cumin and cook 1 minute. Remove from heat and add the vinegar, lemon juice, cayenne, salt, and pepper.
Divide the vinaigrette into 2 bowls to cool.
In a large pot, cook the lentils until tender in salted water. Usually this will take between 15-40 minutes, depending on how soft you like the lentils. You can use vegetable or chicken stock instead of water for more flavor.
Drain the lentils and toss with ½ the vinaigrette.
Toss the arugula in the other bowl with ½ the vinaigrette.
Cut the beets in quarters and divide between 4 plates.
Place ¼ of the arugula on each plate.
Top with ¼ of the lentils.
Divide the feta cheese between the plates.
Notes
Prep Time: 15 minutes
Total Time: 25 minutes
Nutrition Information
Serving Size: 1 cup
Vegetables: ¾ cup
Fruits: 0 cups
Calories: 192 calories
Carbohydrates: 22 grams
Fiber: 7 grams
Protein: 9 grams
Fat: 9 grams
Sodium: 79 mg