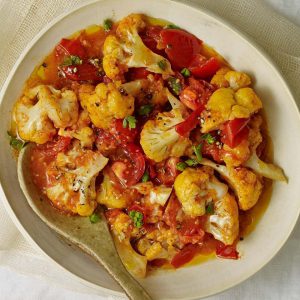 Retrieved from: Eating Well
The warm and spicy flavor of this cauliflower dish is sure to make your taste buds happy! This side is even better when paired with lentils or any desired meat.
Ingredients:
3 tablespoons extra-virgin olive oil, divided
1/2 cup finely chopped shallots
2 cloves garlic, minced
1 tablespoon chopped fresh marjoram, plus more for garnish
1/2 teaspoon ground cumin
1/2 teaspoon ground coriander
1/2 teaspoon salt
1/4 teaspoon ground allspice
6 cups cauliflower florets (1-inch)
4 cups diced tomatoes
Instructions:
Heat 2 tablespoons oil in a large skillet over medium heat. Add shallots and garlic; cook, stirring frequently, until the shallots are soft but not brown, about 1 minute. Sprinkle with marjoram, cumin, coriander, salt and allspice and cook, stirring constantly, for 15 seconds. Add the remaining 1 tablespoon oil, cauliflower and tomatoes; gently stir to combine.
Cover and cook, stirring occasionally, for 10 minutes. Uncover and continue cooking, stirring occasionally, until the cauliflower is tender and the sauce is thickened, 5 to 10 minutes more. Serve garnished with fresh marjoram, if desired.
Nutritional Information
Serving size: ¾ cup; 124 calories; 8 g fat(1 g sat); 4 g fiber; 13 g carbohydrates; 4 g protein; 84 mcg folate; 0 mg cholesterol; 6 g sugars; 0 g added sugars; 1009 IU vitamin A; 69 mg vitamin C; 47 mg calcium; 1 mg iron; 234 mg sodium; 655 mg potassium