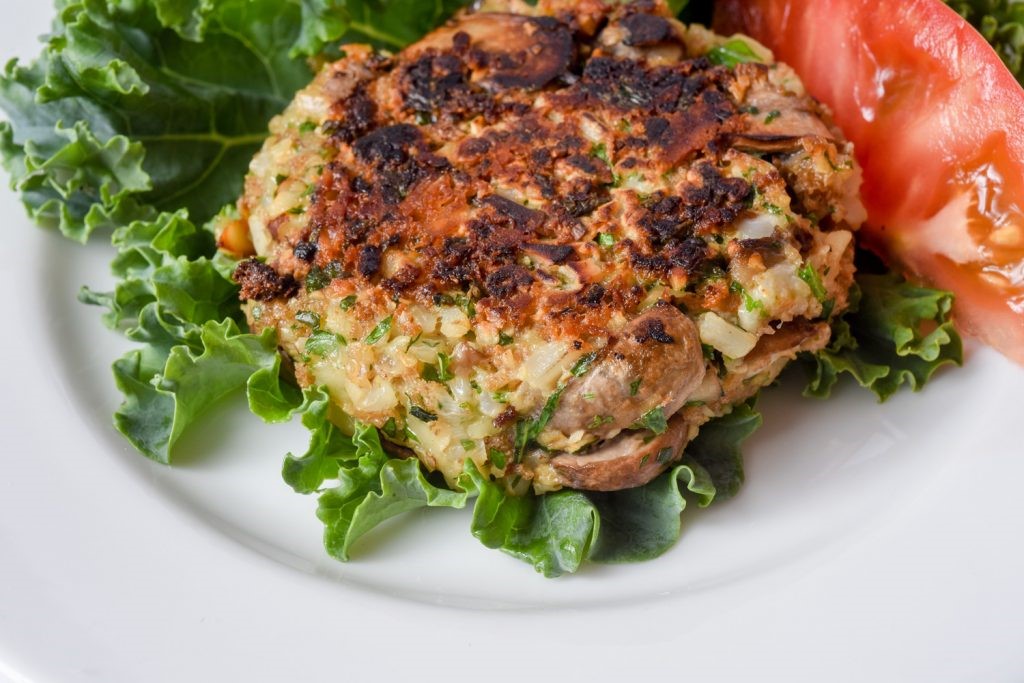 Source: Med Instead of Meds
Serves 6
Ingredients
¼ cup chopped almonds
½ cup old-fashioned oats
1 tablespoon olive oil
½ cup chopped green onions
1 ½ cups thinly sliced white mushrooms (can use crimini or shiitake)
½ cup cooked brown rice
1/3 cup shredded extra sharp cheddar cheese
3 egg whites
2 tablespoons chopped herbs (parsley, chives, cilantro) (optional)
½ cup whole-wheat breadcrumbs
Salt and pepper to taste
Instructions

Toast the almonds and oats in a dry skillet stirring frequently until just brown. Set aside.
Cook the onions and mushrooms in the olive oil until done and no moisture remains – approximately 5-7 minutes.
Add the oats and almonds to the mushroom mixture.
Cool, then combine with the remaining ingredients. The mixture will be a bit soupy.
Form into 6 patties and cook on a griddle or large sauté pan. Do not get the patties too close together.
Let cook until medium brown before turning – this will allow the egg whites to set the patties and they will be easier to turn.
Notes
Any cheese of your choice can be used instead of the sharp cheddar cheese if desired.
Nutrition Information
Calories: 158; Total Fat: 7g; Sodium: 127mg; Total Carbohydrate: 17g;
Dietary Fiber: 2g; Protein: 7g.