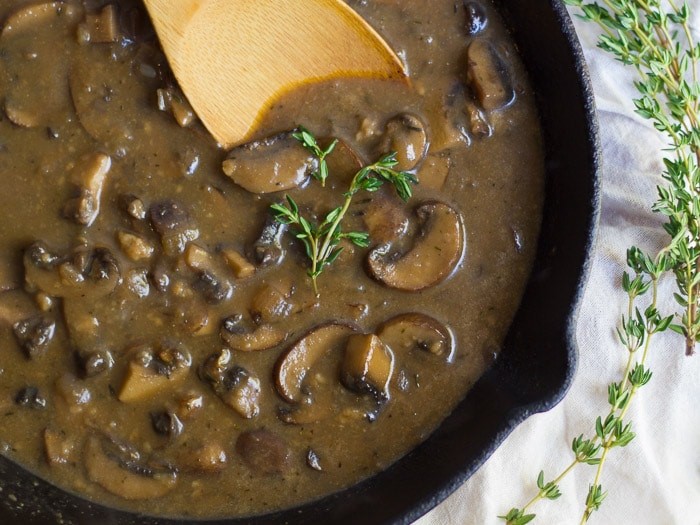 Source: Planet Based Cooking
Serves 4-6
Ingredients
4 cups low-sodium vegetable broth
1 cup white onion chopped
4 cloves garlic finely chopped
1 tablespoon tomato paste
8 ounces mushrooms such as porcini, cremini, or shiitake – trimmed and chopped
2 tablespoon fresh thyme finely chopped
½ tablespoon fresh rosemary finely chopped
1/3 cup red wine preferably something spicy like Zen or Merlot
2 tablespoon soy sauce
2 tablespoon nutritional yeast
2 tablespoon cornstarch
Salt and pepper to taste
Instructions

Add onion to a large skillet and saute for 3-4 minutes or until translucent. Add ¼ cup of the broth to the pan to prevent the onion from burning.
Add mushrooms and cook for 10-12 minutes or until they release their liquid and start to caramelize and become tender.
Stir in garlic, rosemary, thyme, and tomato paste. Continue to cook for 1 minute until fragrant.
Add wine and cook 1 minute, stirring constantly.
Stir in remaining 2 cups broth and bring to a simmer.
In a small bowl, whisk together soy sauce, nutritional yeast, and cornstarch to form a thick paste. Add mixture to the skillet, whisking constantly to make sure paste dissolves. Bring mixture to a boil and cook for 1 minute, stirring constantly, until the gravy thickens.
Nutrition Information
Serving Size: 1/5 of Recipe
Calories: 76; Total Fat: .8g; Total Carbohydrate: 11g; Protein: 4g.