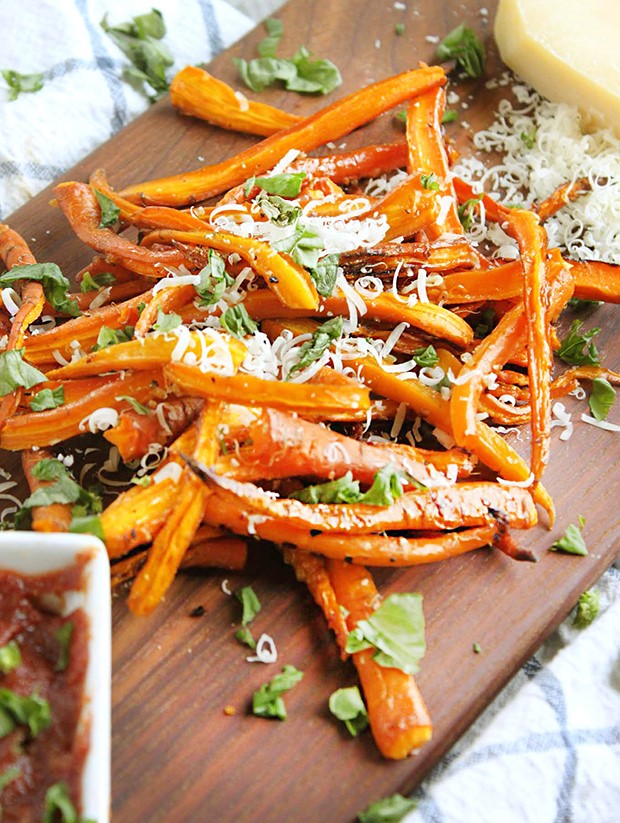 Source: Daily Burn
Serves 4
Ingredients
1-pound fresh carrots
2 teaspoons olive oil
½ teaspoon flaky sea salt
Cracked black pepper to taste
2 tablespoons fresh basil chopped
2-3 tablespoons freshly grated parmesan
Instructions

Preheat oven to 450 F.
Peel carrots and cut into matchstick slices.
In a medium bowl, toss slices in olive oil, salt, and pepper.
Spread out carrots on a baking sheet and bake for 12-15 minutes or until the carrots are browned slightly.
Remove from the oven and sprinkle with fresh basil and parmesan cheese before serving.
Nutrition Information
Calories: 83; Total Fat: 3g (Saturated Fat: 1g); Sodium: 280mg;
Total Carbohydrate: 11g; Dietary Fiber: 3g; Sugar: 5g; Protein: 2g.