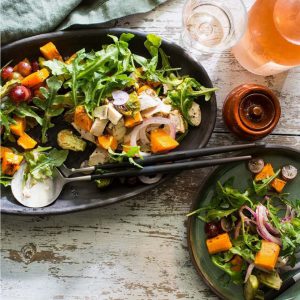 Retrieved from:  Eating Well
This salad captures all the flavors of fall in one dish. Butternut squash is chalk full of vitamins C and A, great for staving off colds during the long winter months. The dressing is crisp, easy to make, and the recipe doubles well. Try making extra and use it on other salads. Walnut oil can be very expensive, so feel free to substitute it with olive oil instead.
Ingredients:
2 3/4 cups precubed butternut squash
2 1/2 cups halved Brussels sprouts (or quartered, if large)
1 teaspoon extra-virgin olive oil
3/4 teaspoon salt, divided
1/8 teaspoon ground pepper plus 1/4 teaspoon, divided
2 cups cubed cooked chicken (1/2-inch; about 10 ounces)
1 cup red grapes, halved
1/2 cup very thinly sliced red onion
1 5-ounce package baby arugula
1/4 cup walnut oil or extra-virgin olive oil
2 tablespoons white-wine vinegar
2 tablespoons finely chopped shallot
2 teaspoons Dijon mustard
Instructions:
Preheat oven to 425degrees F. Coat a large rimmed baking sheet with cooking spray.
Toss squash, Brussels sprouts, 1 teaspoon olive oil, 1/4 teaspoon salt and 1/8 teaspoon pepper in a large bowl. Arrange in a single layer on the prepared baking sheet (reserve the bowl). Roast, stirring once or twice, until the vegetables are tender, 20 to 22 minutes.
Combine chicken, grapes, onion and arugula in the reserved bowl. Add the roasted vegetables and toss to combine.
Whisk walnut oil (or olive oil), vinegar, shallot, mustard and the remaining 1/2 teaspoon salt and 1/4 teaspoon pepper in a small bowl. Pour over the salad and gently toss to combine.
Nutritional Information
Serving Size: about 2 cups; 242 calories; 12 g fat(1 g sat); 3 g fiber; 18 g carbohydrates; 17 g protein; 66 mcg folate; 40 mg cholesterol; 7 g sugars; 0 g added sugars; 7705 IU vitamin A; 48 mg vitamin C; 97 mg calcium; 2 mg iron; 378 mg sodium; 642 mg potassium