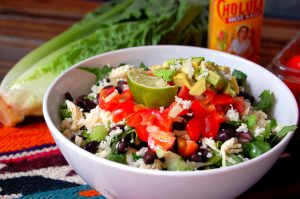 By no means can I take credit for this recipe but it was super easy to prepare and so delightfully refreshing (esp. during the summer) that I had to share.
Ingredients:
Loose leaf lettuce (red or green)
2 ripe avocados
2 tsp lemon juice
4 medium tomatoes
2 cups mixed beans (canned and drained OR use home-cooked beans)
1 onion (optional)
Dressing (or use any other low-fat dressing of your choice):
4 tbsp olive oil
2 tbsp garlic wine vinegar
Pinch of superfine sugar
Pinch of chilli powder
1 tbsp chopped parsley
Directions:
Line a large serving bowl with the lettuce leaves.
Cut the avocados in half and remove the pits. Thinly slice the flesh and sprinkle with lemon juice.
Thinly slice the tomatoes and onion and push the onion out into rings. Arrange the avocado, tomatoes, and onion around the salad bowl, leaving a space in the center.
Spoon the mixed beans into the center of the salad.
Whisk the dressing ingredients together and serve with the salad.
Note – Although lemon juice is sprinkled on the avocados to help prevent discoloration, prepare and serve this salad quite quickly.