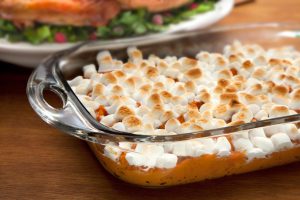 Ingredients
2 1/2 pounds sweet potatoes, peeled and cut into 1-inch cubes
3/4 cup packed brown sugar
1/4 cup butter, softened
1 1/2 teaspoons salt
1/2 teaspoon vanilla extract
1/2 cup finely chopped pecans, divided
Cooking spray
2 cups miniature marshmallows
Instructions
1. Preheat oven to 375°.
2. Place the sweet potatoes in a large pot, and cover with cold water. Bring to a boil. Reduce heat, and simmer for 15 minutes or until very tender. Drain; cool slightly.
3. Place potatoes in a large bowl. Add sugar and next 3 ingredients (through vanilla). Mash sweet potato mixture with a potato masher. Fold in 1/4 cup pecans. Scrape potato mixture into an even layer in an 11 x 7-inch baking dish coated with cooking spray. Sprinkle with remaining 1/4 cup pecans; top with marshmallows. Bake at 375° for 25 minutes or until golden.
Nutrition Information
Makes 16 servings.
Calories: 186; Fat: 5.5 g (Saturated Fat: 2 g); Protein: 1.6 g; Carbohydrate: 33.1 g; Fiber: 2.5 g; Cholesterol: 8 mg