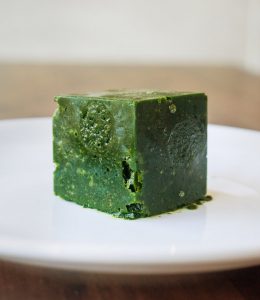 Recipe adapted from: New York Times
Make this sauce in large batches and freeze it in ice cube trays. Next time you make a stir fry, let a couple of cubes melt in the hot pan to add a boost of flavor to your dish. The author of this recipe recommends using the flavor cubes with fried rice.
Ingredients
2/3 cup cilantro
2/3 cup parsley
2/3 cup Thai basil
4 cups spinach
2 cloves garlic, peeled
2 tablespoons fresh ginger, peeled and chopped
Directions
Tear all the stems off the herbs and spinach. (No need to be exact, just rip off most of them.)
Blanch the cilantro, parsley, Thai basil and spinach in a pot of boiling water for about 30 seconds. As soon as they turn bright green, take them out and drop them into a bowl of ice water.
Take the greens out of the ice bath and shake off excess water (but leave the greens wet). Put them into a blender or small food processor with the garlic and ginger. Blend until you have a smooth, dark green purée. If it's too thick, add a little water to keep it moving, about 1 tablespoon at a time.
Pour purée into an ice cube tray and pop it into the freezer. To use in fried rice, add a few cubes to the pan once the vegetables and any other protein are cooked and the rice is translucent; keep stirring as the cubes melt and coat the rice. Season and serve.
Nutrition information for the whole batch (Makes 8-12 cubes)
Calories 42, Protein 3g, Carbohydrate 8g, Added sugars 0g, Total Fat 1g, Saturated Fat 0g, Dietary Fiber 2g, Cholesterol 0g, Sodium 34mg.