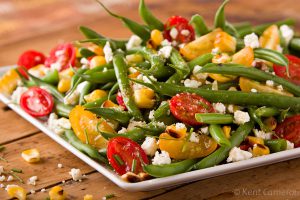 I love all the fresh vegetables that I get from our CSA in the summer. This is one of our favorite salads. Try cooking the corn using the microwave technique that is SO EASY – here is a video. I like this best with ricotta salata which is a ricotta that is pressed into a solid block. If you use ricotta salata, grate it finely using the smallest hole on a box grater. Enjoy as a side dish or light lunch.
Summer Green Bean Salad
1 lb green beans, washed and trimmed
1 pt cherry tomatoes, cut in half
2 ears corn, cooked and cut off the cob
4 ounces ricotta salata  or feta, shredded finely or crumbled
1 cup packed basil leaves, cut into thin ribbons (chiffonade)
3 tablespoons sherry vinegar
1 teaspoon Dijon mustard
4 tablespoons olive oil
salt to taste
Cook the green beans in salted water until just done – do not overcook. Chill well. In a large bowl, combine the cherry tomatoes, corn, and green beans. Shred the cheese and add to the vegetable mixture. Make the vinaigrette by combining the vinegar and mustard then add the oil in a thin stream while beating. Add the dressing to the vegetable mixture. Top with the basil.