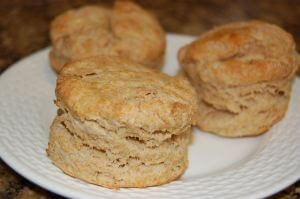 Recipe adapted from: 100 Days of Real Food
Ingredients
2 cups whole wheat flour or whole-wheat pastry flour
4 teaspoons baking powder
½ teaspoon salt
4 tablespoons cold unsalted butter
1 cup skim milk
Directions
In a medium bowl combine flour, baking powder, and salt. Mix well.
Cut the butter into little pea sized pieces and then mix the pieces into the flour mixture with a fork.
Mash the butter pieces together with the flour until the mixture resembles coarse crumbs.
Add milk and mix it all together. Knead the dough with your hands 8 to 10 times. Turn out onto a flour-dusted, flat surface.
Pat dough out flat with your hands until it is about ¾-inch thick. Sprinkle with additional flour if necessary.
Turn a drinking glass upside down and cut out biscuit rounds. You can also use shaped cookie cutters like a heart or star.
Arrange biscuits on an ungreased cookie sheet and bake at 450 degrees for 10 – 12 minutes or until lightly browned.
Nutrition Information (Makes 10 biscuits)
Calories: 131; Total Fat: 5 g (saturated fat: 3 g); Cholesterol: 13 mg; Carbohydrates: 19 g; Dietary Fiber: 3 g; Sodium: 323; Protein: 4 g.