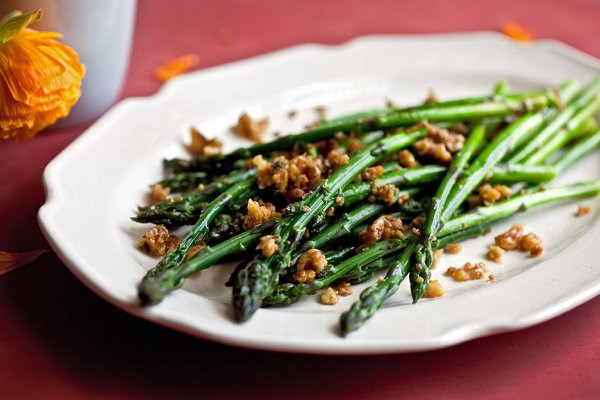 Source: Healthy in a Hurry by Karen Ansel
Serves 4
Ingredients
¼ cup walnuts
1 ½ lb asparagus
1 tablespoon olive oil
1 tablespoon orange zest
1/8 teaspoon sea salt
Instructions
Preheat oven to 350 F (180 C).
Spread walnuts on baking sheet and toast until lightly browned (10 minutes). Pour onto a plate and let cool.
Break off and discard tough stem ends from asparagus – place remaining spears on a baking sheet or dish.
Sprinkle with olive oil, orange zest, and salt – toss to coat and mix well.
Roast asparagus stirring well once or twice until tender (10 minutes).
Arrange on a platter and sprinkle toasted walnuts.
Nutrition Information
Calories: 110; Total Fat: 1g (Saturated Fat: 1g); Sodium: 70mg; Cholesterol: 0mg;
Total Carbohydrates: 8g; Protein: 5g.