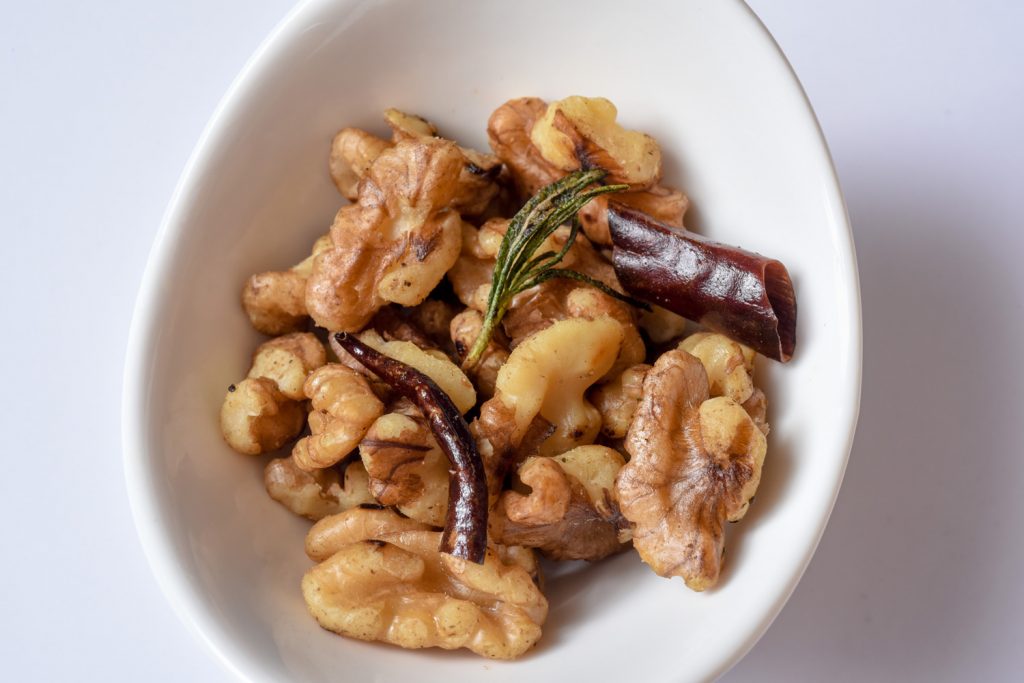 Source: Medinsteadofmeds.com
Serves 8
Ingredients
1 tablespoon olive oil
½  pound (approximately 2 cups) walnuts
3 (3-inch) sprigs of fresh rosemary, leaves removed (use 1 tablespoon dried if you don't have fresh)
3 teaspoons crushed chili flakes
½ teaspoon salt
Instructions
Use a large skillet over medium heat. Heat the oil and add the walnuts. Stir to coat the walnuts.
Add the rosemary leaves, crushed chili flakes, and salt. Toss to coat the walnuts.
Cook over medium heat stirring almost constantly for 15 minutes. Do not allow the walnuts to get too brown.
Notes
This is an easy way to add extra flavor to your daily snack. Change it up by choosing a different type of nut or herb combination.
Tip: Make a large batch with your favorite nuts and herbs for a great grab-and-go snack throughout the week.
Prep Time: 5 minutes
Cook Time: 15 minutes
Total Time: 20 minutes
Nutrition Information
Serving Size: ¼ cup
Vegetables: 0 cups
Fruits: 0 cups
Calories: 200 calories
Carbohydrates: 17 grams
Fiber: 4 grams
Protein: 4 grams
Fat: 14 grams
Sodium: 313 mg