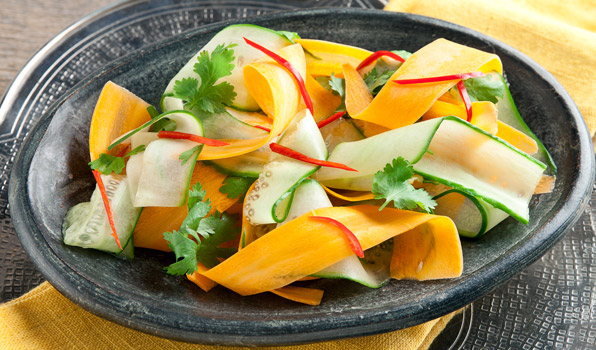 Source: My Recipes
Serves 4
Ingredients
1 ½ tablespoon cider vinegar
1 ½ tablespoon extra-virgin olive oil
¼ teaspoon kosher salt
¼ teaspoon freshly ground black pepper
1 ½ cup thinly shaved carrot
1 small Vidalia onion very thinly vertically sliced
1 ½ cups thinly shaved cucumber
1 cup fresh flat-leaf parsley leaves
Instructions

Combine vinegar, oil, salt, and pepper in a medium bowl – stirring with a whisk.
Add carrot and onion; toss to coat.
Let stand for 5 minutes.
Add cucumber and parsley to bowl; toss to coat.
Nutrition Information
Calories: 86; Total Fat: 5.4g (Saturated Fat: 0.8g); Sodium: 164mg; Cholesterol: 0mg;
Total Carbohydrate: 9g; Dietary Fiber: 2g; Sugar: 4g; Protein: 1g.