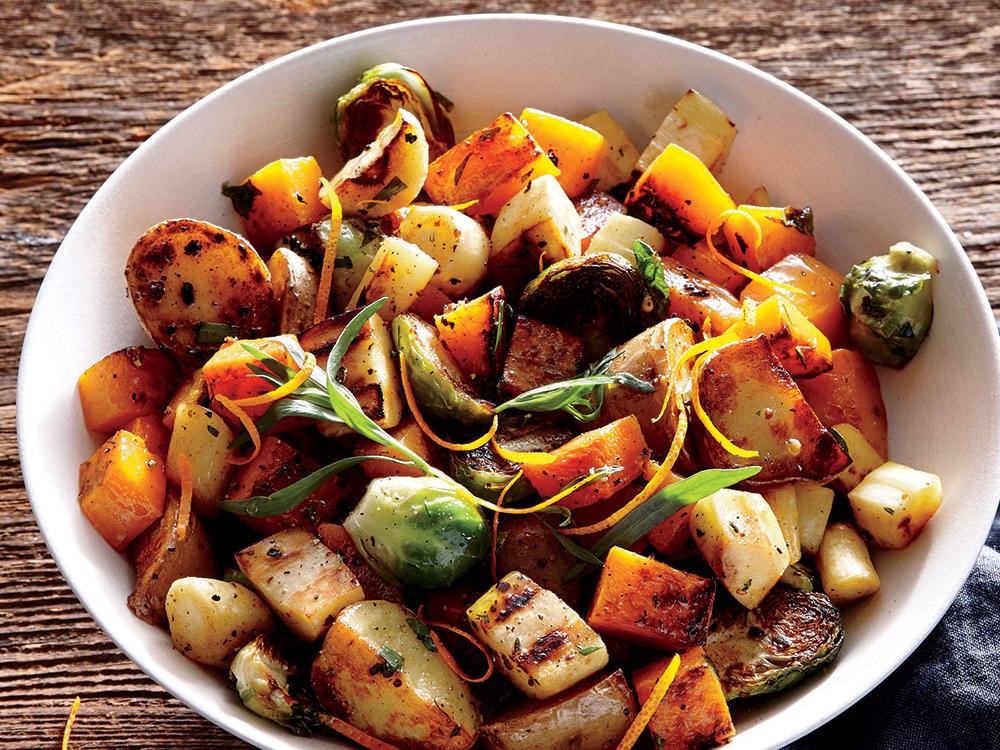 Source: Cooking Light
Serves 10
Ingredients
3 tablespoons olive oil
2 tablespoons whole-grain mustard
1 tablespoon chopped fresh thyme
1 tablespoon apple cider vinegar, divided
¾ teaspoon kosher salt
½ teaspoon freshly ground black pepper
1 lb peeled cubed butternut squash (about 3 cups)
1 lb parsnips, peeled and cut into 1-inch pieces (about 2 ¼ cups)
1 lb Brussel sprouts, trimmed and halved
8 ounces small Yukon Gold potatoes, halved
Cooking spray
Instructions

Preheat oven to 450 F.
Combine oil, mustard, thyme, vinegar, salt, and pepper in a bowl, stirring with a whisk.
Combine butternut squash, parsnips, Brussel sprouts, and potatoes in a large bowl.
Add mustard mixture to squash mixture; toss to coat.
Spread vegetable mixture in a single layer on a foil-lined baking sheet coated with cooking spray.
Bake for 35 minutes or until browned and tender, stirring gently with a spatula after 25 minutes.
Remove pan from oven and drizzle with remaining 1 teaspoon vinegar; toss.
Nutrition Information
Calories: 133; Total Fat: 4.6g (Saturated Fat: 0.7g); Sodium: 214mg; Cholesterol: 0mg;
Total Carbohydrate: 23g; Dietary Fiber: 6g; Sugar: 5g; Protein: 3g.