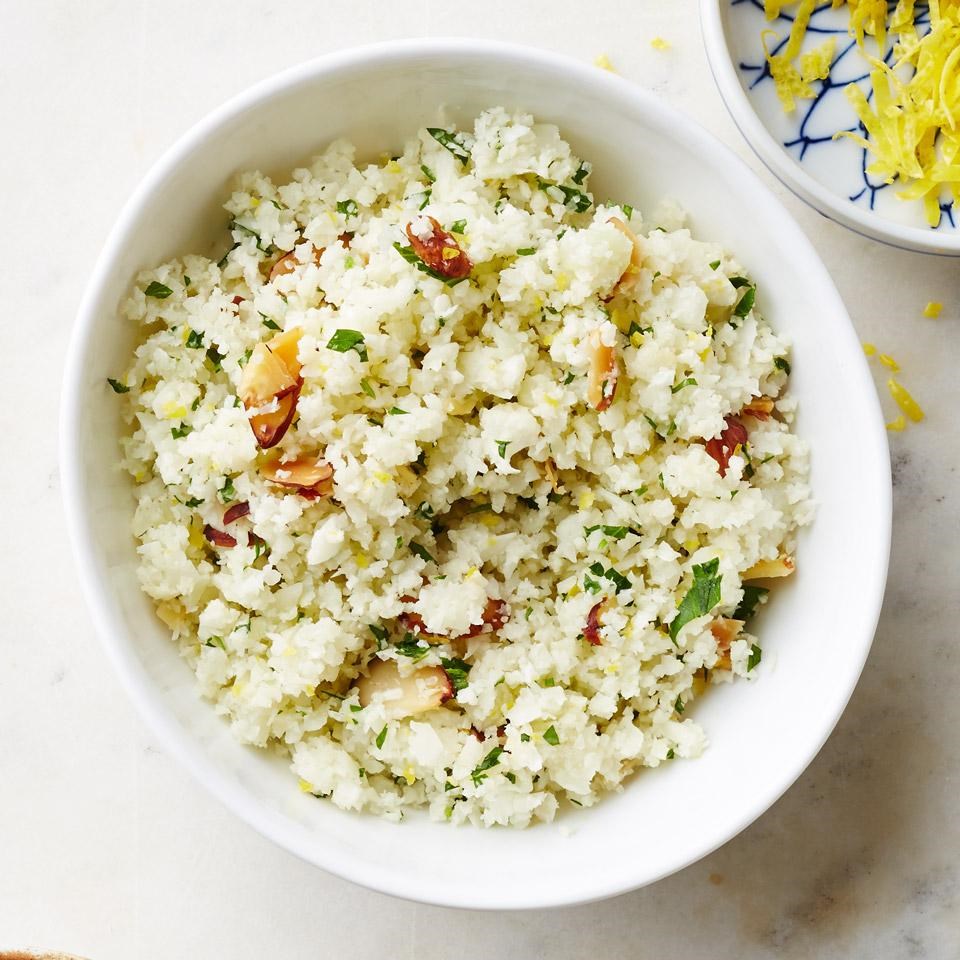 Source: Eatingwell.com
Serves 6
Ingredients
6 cups cauliflower florets (about 1 head)
¼ cup toasted sliced almonds
3 tablespoons extra-virgin olive oil
¼ cup chopped fresh herbs, such as chives, parsley, cilantro and/or basil
2 teaspoons lemon zest
2 cloves garlic, minced
½ teaspoon salt
Instructions
Pulse cauliflower florets 2 cups at a time in a food processor until chopped into rice-size pieces.
Heat oil in a large skillet over medium-high heat. Add garlic and cook until fragrant, about 30 seconds. Add the cauliflower rice, sprinkle with salt and cook, stirring, until softened, 3 to 5 minutes. Remove from heat. Stir in almonds, herbs and lemon zest.
Notes
Prep Time: 20 minutes
Ready In: 20 minutes
For an even faster rice pilaf, use 4 cups of purchased cauliflower rice instead of making your own.  Look for it near other fresh or frozen prepared vegetables.
To make ahead: Refrigerate raw cauliflower "rice" (Step 1) for up to 3 days.
Nutrition Information
Serving size: ⅔ cup each
Per serving: 114 calories; 9 g fat (1 g sat); 3 g fiber; 7 g carbohydrates; 3 g protein; 65 mcg folate; 0 mg cholesterol; 2 g sugars; 0 g added sugars; 110 IU vitamin A; 54 mg vitamin C; 39 mg calcium; 1 mg iron; 227 mg sodium; 361 mg potassium