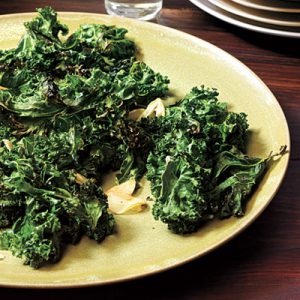 From Cooking Light, November 2010
Ingredients:
3 1/2 teaspoons extra-virgin olive oil
1/4 teaspoon kosher salt
1 garlic clove, thinly sliced
10 ounces kale, stems removed and chopped
1 teaspoon sherry vinegar
Instructions:
Arrange oven racks in center and lower third of oven. Preheat oven to 425 degrees. Place a large jelly-roll pan in oven for five minutes
Combine first 4 ingredients in a large bowl; toss to coat. Place kale mixture on hot pan, spreading with a silicone spatula to separate leaves. Bake at 425 degrees for 7 minutes. Stir kale. Bake an additional 5 minutes or until edges of leaves are crisp and kale is tender.
Place kale in a large bowl. Drizzle with vinegar; toss to combine. Serve immediately.
Nutrition Information:
Makes 4 servings, serving size: 2/3 cup
Calories: 72; Fat: 4.7 g (Saturated fat: .7 g); Protein: 2.3 g; Carbohydrate: 7.1 g; Cholesterol: 0.0 mg; Iron: 1.2 mg; Sodium: 125 mg