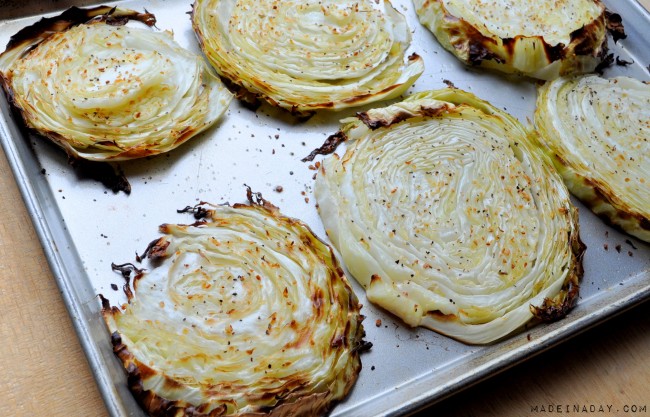 Adapted from AllRecipes.com
Serves 6
Ingredients
1 head cabbage
2 Tablespoons olive oil
2-3 minced or chopped garlic cloves
1/2 teaspoon salt, or to taste
1 tsp ground black pepper, to taste
Instructions
Preheat oven to 400 degrees F.
Core the cabbage and then cut into ~1 inch thick slices, keeping cut forms together in a steak/slice. Arrange slices in a single layer on a large cookie sheet.
Drizzle olive oil over the cabbage slices and top with garlic. Season cabbage with salt and pepper.
Bake in preheated oven for about 40 minutes, after 20 minutes flip carefully.
Nutrition
Per serving:
Calories: 80.5
Total fat: 4.6 g (Saturated fat: 0.6 g)
Protein: 2 g
Carbohydrates: 9.5 g
Cholesterol: 0 mg
Sodium: 221.3
Total Sugar: 4.83 g (Added sugar: 0 g)