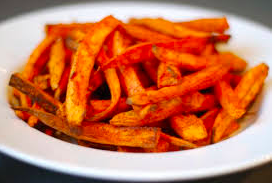 Ingredients
2 Tablespoons of extra virgin olive oil
6 sweet potatoes, peeled and cut like steak fries
¼ teaspoon of kosher salt
¼ packet of reduced sodium taco seasoning mix
Instructions
Preheat oven to 425 degrees Fahrenheit.
In a large bowl, drizzle olive oil over potatoes and stir to coat evenly.
Add salt and taco seasoning, toss.
Place fries in one layer on baking sheet and keep space between them.
Place in oven for 10 minutes and flip them. Place back in oven for another 5 minutes.
Cook in batches as necessary until they are all browned.
Cool for 5 minutes and serve.
Nutrition Information
Number of Servings: 7. Serving Size: about 1 cup.
Amount per serving: Calories: 125, Calories from fat: 39, Total fat: 5g, Saturated fat: 1g, Sodium: 188mg, Total Carbohydrate: 20g, Dietary fiber: 3g, Sugars: 0g.