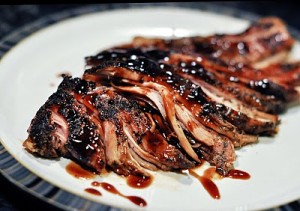 Adapted from CandCMarriageFactory.com
Ingredients:
1 (2 pound) boneless pork tenderloin
1 teaspoon ground sage
1/2 teaspoon salt
1/4 teaspoon pepper
1 clove garlic; crushed
1/2 cup water
Glaze
1/4 cup brown sugar
1 tablespoon cornstarch
1/4 cup balsamic vinegar
1/2 cup water
2 tablespoons soy sauce
Instructions:
Combine sage, salt, pepper, and garlic. Rub over roast. Place in slow cooker with 1/2 cup water. Cook on low for 6-8 hours. About 1 hour before roast is done, combine ingredients for glaze in small sauce pan. Heat and stir until mixture thickens. With two forks, pull apart pork so it is more  like "shredded pork". Pour the glaze into the slow cooker and make sure all of the meat is covered and moist. Continue to heat for the last hour. If it starts to look too dry add a tiny bit more water.