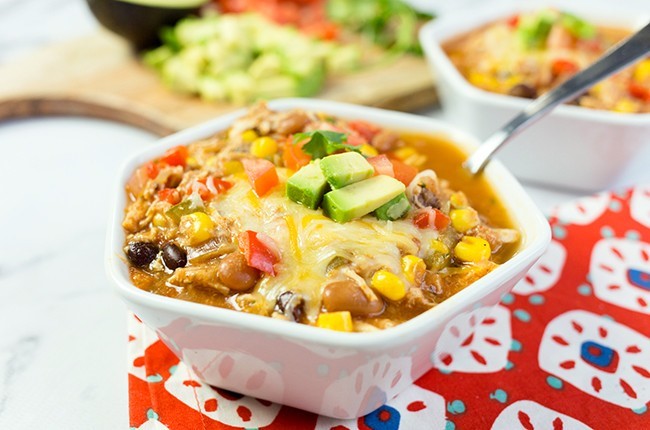 Source: Pop Culture
Serves 8
Ingredients
1 red bell pepper diced
1 green bell pepper diced
1 onion diced
1 15 ounces can reduced-sodium black beans – drained and rinsed
1 15 ounces can reduced-sodium pinto beans – drained and rinsed
1 10-ounce package frozen yellow corn
1 14.5 ounces can reduced-sodium crushed tomatoes
2 cups low-sodium chicken broth
1 4 ounces can green chilies – chopped
2 tablespoons cumin
2 tablespoons chili powder
2 teaspoons dried oregano
1 tablespoon onion powder
1 tablespoon garlic powder
½ teaspoon red chili flakes
1 ½ pound boneless, skinless chicken breasts
Juice of 1 lime (about 2 tablespoons)
2 tablespoon fresh chopped cilantro
Optional: Plain Greek Yogurt, light sour cream, avocado slices, diced jalapeno, or shredded reduced-fat cheddar cheese
Instructions

Combine all of the ingredients except the lime juice and cilantro in the slow cooker, place the chicken on top. Cook on low for 6-8 hours, or high for 4-6 hours.
In the last 30 minutes of cooking, remove and shred the chicken. Return it to the slow cooker with the lime juice and cilantro and stir to combine.
Cook for an additional 10 minutes.
Serve with optional toppings as desired.
Nutrition Information
Calories: 264; Total Fat: 3g (Saturated Fat: 0g); Sodium: 498mg; Cholesterol: 49mg;
Total Carbohydrate: 39g; Dietary Fiber: 8g; Sugar: 7g; Protein: 26g.