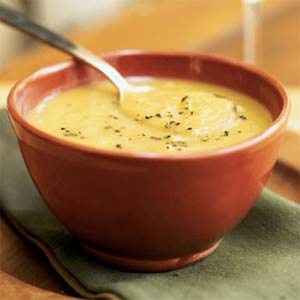 Retrieved From: My Recipes
Cozy up in this cold weather with a warm cup of this healthy soup! The leek creates a light onion flavor that is truly scrumptious and does not over power the sweetness of the butternut squash.
Ingredients:
1 whole garlic head
4 teaspoons olive oil
6 cups thinly sliced leek (about 4 large)
4 cups (3/4 inch) cubes peeled butternut squash (about 1 medium)
2 cups water
2 cups fat free, less-sodium broth
1/2 teaspoon salt
1/2 teaspoon freshly ground black pepper
Instructions:
Preheat oven to 350°.
Remove white papery skin from garlic head (do not peel or separate the cloves). Wrap head in foil. Bake at 350° for 1 hour; cool 10 minutes. Separate cloves; squeeze to extract garlic pulp. Discard skins.
Heat oil in a large saucepan over medium-high heat. Add leek; sauté 5 minutes or until tender. Stir in garlic, squash, 2 cups water, broth, salt, and black pepper; bring to a boil. Reduce heat, and simmer 10 minutes or until squash is tender. Place half of squash mixture in a blender. Remove center piece of blender lid (to allow steam to escape); secure blender lid on blender. Place a clean towel over the opening in the blender lid (to avoid splatters). Blend until smooth. Pour pureed soup into a bowl. Repeat procedure with remaining squash mixture.
Nutrition Information: 167 Calories, 3.5g Fat, 0.5 Saturated Fat, 351 mg Sodium