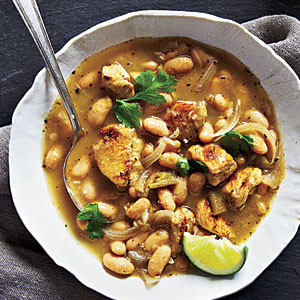 Retrieved From: My Recipes
Perfect for a cold winter evening, this chili is easy and quick to make. For those who like it spicy, try adding extra ground red pepper flakes or hot sauce. For those who run from spice, top your chili with a scoop of low-fat Greek yogurt.
Ingredients:
1 tablespoon canola oil
1 pound, skinless, boneless chicken breast, cut into bite-sized pieces
3/4 teaspoon salt, divided
1/2 cup vertically sliced onion
2 teaspoons minced garlic
2 teaspoons ground cumin
1 teaspoon ground coriander
1/2 teaspoon dried oregano
1/4 teaspoon ground red pepper
3 cups no-salt-added canned cannellini beans, rinsed, drained and divided
1 cup water
2 4-ounce cans chopped green chiles, un-drained and divided
1 14-ounce can fat-free, lower sodium chicken broth
1/4 cup cilantro leaves
1 lime, cut into 8 wedges
Instructions:
1. Heat a large pot or Dutch oven over medium-high heat. Add oil. Sprinkle chicken with 1/4 teaspoon salt. Add chicken; sauté 4 minutes. Add onion and next 5 ingredients; sauté 3 minutes. Add 2 cups beans, water, 1/2 teaspoon salt, 1 can chiles, and broth; bring to a boil.
2. Mash 1 cup beans and 1 can chiles in a bowl. Add to soup; simmer 5 minutes. Serve with cilantro and lime.
Nutrition Information: 189 Calories, 4.3 g Fat, 0.5 Saturated Fat, Protein 22.3 g, Sodium 624mg