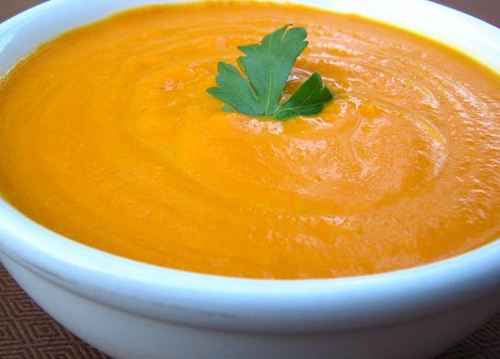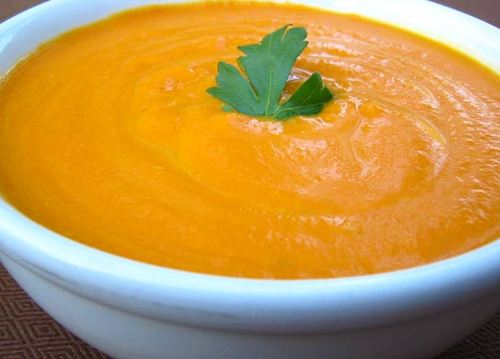 Ingredients
3 tablespoons canola oil
2 teaspoons curry powder
8 medium carrots, peeled and thinly sliced
4 medium stalks celery, thinly sliced
1 medium onion, coarsely chopped
5 cups reduced-sodium chicken broth
1 tablespoon lemon juice
1/2 teaspoon salt
Instruction
Cook oil and curry powder in a large saucepan over medium heat, stirring, until fragrant, 1 to 2 minutes. Stir in carrots, celery and onion; toss to coat in oil. Cook, stirring frequently, for 10 minutes. Stir in broth. Bring to a boil. Reduce heat and simmer until the vegetables are very tender, about 10 minutes. Remove from the heat; let stand 10 minutes. Lay a paper towel over the surface of the soup to blot away the oil that has risen to the top. Discard the paper towel.
Working in batches of no more than 2 cups at a time, transfer the soup to a blender and puree (use caution when pureeing hot liquids), or you can use a hand-held immersion blender. Return the pureed soup to the pan, place over medium heat and heat through. Season with lemon juice, salt and pepper.
Nutrition
Makes 6 servings. Serving size: 1 1/3 cups.
Per serving: 133 calories; 8 g fat (1 g sat); 4 mg cholesterol; 12 g carbohydrates; 0 g added sugars; 5 g protein; 3 g fiber; 389 mg sodium.
Notes
Make Ahead Tip: Cover and refrigerate for up to 1 day.