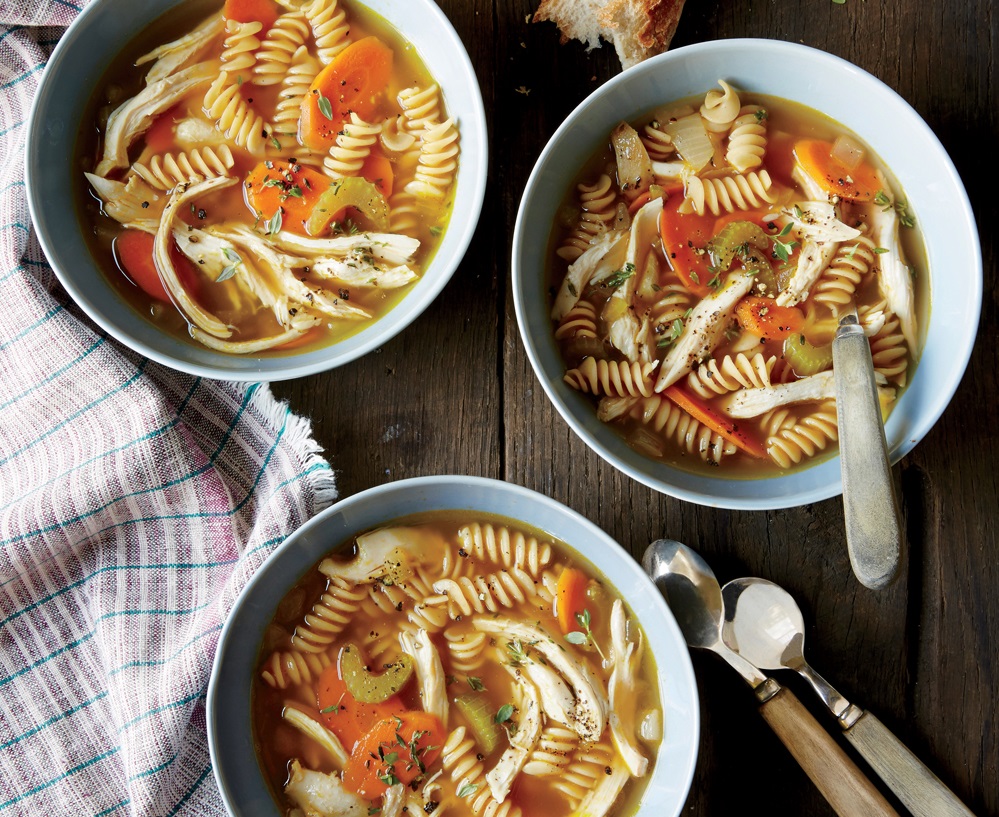 Source: CookingLight.com
Serves 6
Ingredients
1 1/2 tablespoons canola oil
1 1/2 cups thinly sliced carrot
1 cup finely chopped onion
2/3 cup thinly sliced celery
2 cups water
1 (32-ounce) container unsalted chicken stock (such as Swanson)
1 teaspoon dried thyme or 3 fresh thyme sprigs
6 ounces whole-grain rotini (such as Barilla; about 2 cups)
8 ounces skinless, boneless rotisserie chicken breast, shredded
4 ounces skinless, boneless rotisserie chicken thigh, shredded
3/4 teaspoon salt
1/4 teaspoon black pepper
Instructions
Heat a Dutch oven or large saucepan over medium-high heat. Add oil to pan; swirl to coat. Add carrot, onion, and celery; sauté 5 minutes.
While vegetables cook, pour 2 cups water and stock into a microwave-safe bowl; microwave at HIGH for 5 minutes. (This saves up to 10 minutes in the pot.)
Add hot stock mixture to pan; bring to a boil. Stir in thyme and pasta; reduce heat to medium, and cook 8 minutes.
Add chicken, salt, and pepper to pan; cook 2 minutes or until thoroughly heated and pasta is tender.
Notes
Hands-on Time: 25 minutes
Total Time: 25 minutes
Nutrition Information
Serving size: about 1 1/4 cups
Calories 273
Fat 8.1g
Satfat 1.2g
Monofat 3.7g
Polyfat 1.5g
Protein 25g
Carbohydrate 26g
Fiber 4g
Cholesterol 58mg
Iron 2mg
Sodium 618mg
Calcium 56mg