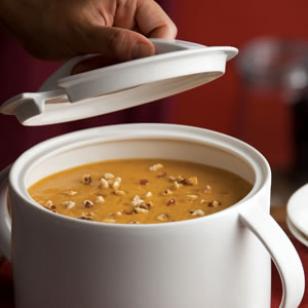 From EatingWell.com
Ingredients
4 pounds pie pumpkin or butternut squash, peeled, seeded and cut into 2-inch chunks (see Tip)
4 large sweet-tart apples, such as Empire, Cameo or Braeburn, unpeeled, cored and cut into eighths
1/4 cup extra-virgin olive oil
1 1/4 teaspoons salt, divided
1/4 teaspoon freshly ground pepper
1 tablespoon chopped fresh sage
6 cups reduced-sodium chicken broth or vegetable broth
1/3 cup chopped hazelnuts, toasted (see Tip) (optional)
2 tablespoons hazelnut oil (optional)
Instructions
Preheat oven to 450°F.
Toss pumpkin (or squash), apples, olive oil, 1 teaspoon salt and pepper in a large bowl. Spread evenly on a large rimmed baking sheet. Roast, stirring once, for 30 minutes. Stir in sage and continue roasting until very tender and starting to brown, 15 to 20 minutes more.
Transfer about one-third of the pumpkin (or squash) and apples to a blender along with 2 cups broth. Puree until smooth. Transfer to a Dutch oven and repeat for two more batches. Season with the remaining 1/4 teaspoon salt and heat through over medium-low heat, stirring constantly to prevent splattering, for about 6 minutes. Serve each portion topped with hazelnuts and a drizzle of hazelnut oil.
Nutrition Information
Makes  12 servings (1 cup each)
Calories:180; Total Fat: 9g (Saturated Fat: 1g); Cholesterol: 0mg; Sodium: 525mg; Total Carbohydrate: 25g; Dietary Fiber: 6g; Protein: 3g
Notes:
Make Ahead Tip: Cover and refrigerate for up to 3 days. Reheat in the microwave on High, covered, stirring frequently, or on the stovetop over medium heat.
Tips: Make it easier to cut a pumpkin, acorn squash or other winter squash: pierce in several places with a fork; microwave on High for 45 to 60 seconds. Use a large sharp knife to cut in half. Remove the seeds and stringy fibers with a spoon.
To toast chopped nuts, small nuts and seeds, place in a small dry skillet and cook over medium-low heat, stirring constantly, until fragrant and lightly browned, 2 to 4 minutes.